The FEU Career and Placement Office (CAPO) is an academic services unit committed in supporting students holistically from their freshmen year up to graduation in preparation for both internship and employment. It provides avenues that will help students become efficient and FEU-ture ready individuals in terms of work preparedness, immersion and exposure through the various career development and mentoring programs.
Moreover, CAPO maximizes its quality network and strong linkages with Industry Partners in improving curriculum and developing programs beneficial for students' career. By working closely with students and academic institutes we not only build strategic partnership with different industries and networks but also empower students to take ownership of their career decision that leads to meaningful professional endeavors.
Career and Placement Programs
CAPO provides a holistic developmental career programs for FEU students through STEP and STEEP.
Support and Training Employment Program

The Support and Training Employment Program (STEP) covers a wide array of avenues designed to help our students prepare for the world of work. It gives them firsthand knowledge and experience sourced from company and field experts through career talks seminars and workshops. Moreover, career mentorship is also provided to ensure that students are supported as they navigate their chosen careers while still in the university. This program is committed to ensuring that our students receive adequate training and support from the university which extends their learning beyond the four corners of the classroom.
Career Advising Program (CAP)
The Career Advising Program (CAP) is designed to support and help students navigate their career path through the mentorship of FEU alumni, faculty and Industry Partners. This program allows students to learn more about themselves in order to maximize their strengths, develop personal interests, and unleash innate skills and abilities for a better career direction beneficial to their future endeavors.
FEU Career Fair
FEU Career Fair is an event created for second year students to have the privilege of continuous exposure to their future respective industry partners as it caters to their distinct career needs in order to make informed decisions in determining their possible career path and goals.
FEU Jumpstart
FEU Jumpstart is a program for graduating students that shall enhance skills needed for the world of work, provides them an opportunity to know the importance of executive presence in the workplace and to assist them with pre-employment document applications to basically help jumpstart their professional career and civil service.
PEP (Pre-Employment Preparation) Talk Plus
The PEP (Pre-Employment Preparation) Talk Plus is designed to prepare graduating students for employment through talks, workshops and simulation that will delve on various employment preparation aspects such as personality development, building resume, communication skills enhancement, and face-to-face and online mock interviews delivered by partner organizations.
Student EXPO (Exposure to Partner Organization) Program
The Student Exposure to Partner Organization (EXPO) Program provides our third year students firsthand exposure to the country's top local and multinational companies through a non-intimidating and student-friendly environment question and answer round-robin forum in preparation for their internship program. This program allows students to personally connect and ask questions to our industry partners to gain correct information and increase knowledge for familiarization and realization of expectations which are beneficial for their future employment.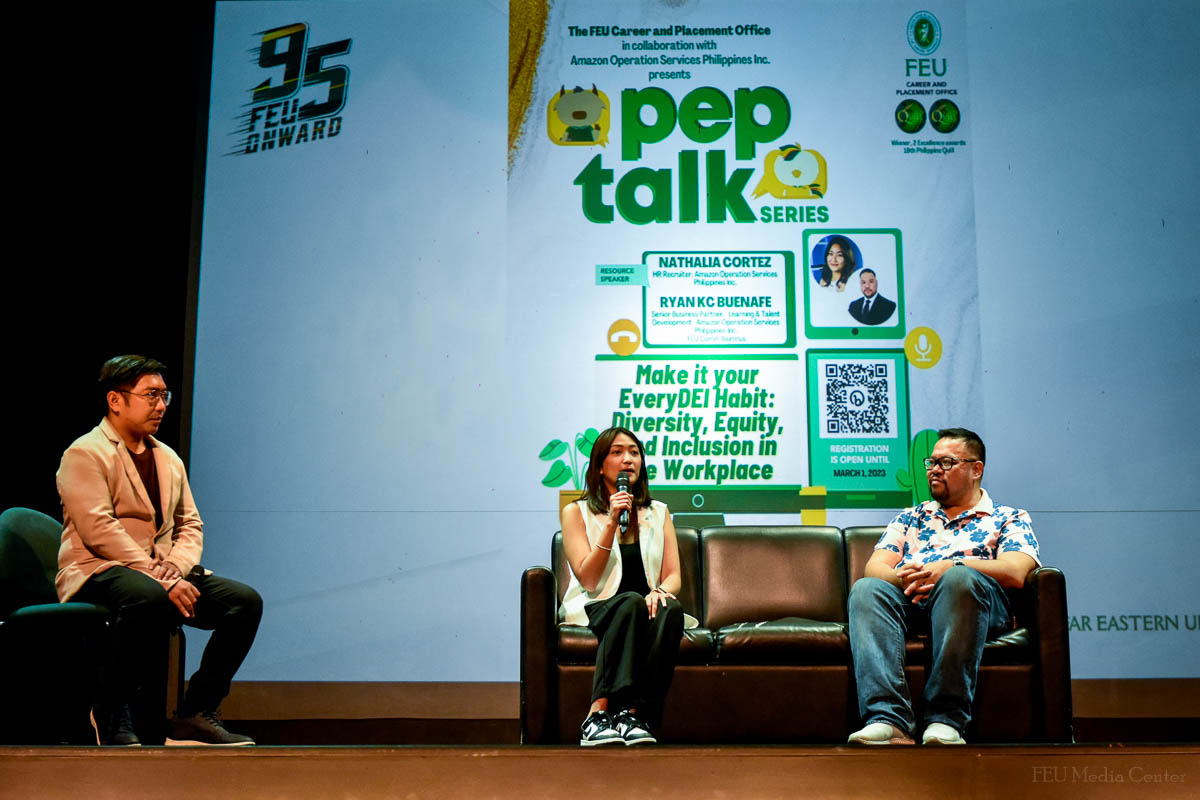 Student Employment Engagement Programs
The Student Employment Engagement Program (STEEP) allows our students to experience a meaningful immersion in their chosen line of career/work. Various engagement includes internships, company tours, and participation in company activities with our industry partners. This program ensures that all engagements of our students are maximized to achieve their optimum professional growth.
CAPP (Career and Apprenticeship Preparation Program)

CAPP (Career and Apprenticeship Preparation Program) is designed for graduating students to experience a management training programs or a similar initiative, upon graduating in pursuit of being mentored to be fully prepared for the world of work by industry experts.
EOR (Exclusive Onsite Recruitment)

EOR (Exclusive Onsite Recruitment) is an event where employment opportunities are offered for graduating students and alumni held inside the FEU campus thru onsite submission of resume and at the same time, assessment and onsite hiring may be conducted to ensure conversion from applicant to employment/internship. The program offers employment opportunities in partnership with the different institutes.
FEU Company Tours

FEU Company Tour is a program that opens opportunity for select second year students to have an actual exposure to industry partner's operations and workplace. This provides access to students to observe actual workplace settings and interact with company representatives in order to help them realize whether they are on the right track in terms of career and future employment.
FEU Job Fair

FEU Job Fair is an event held twice a year at the FEU Manila and Makati campuses to provide opportunities for FEU graduating students to find employment from reputable companies and organizations.
---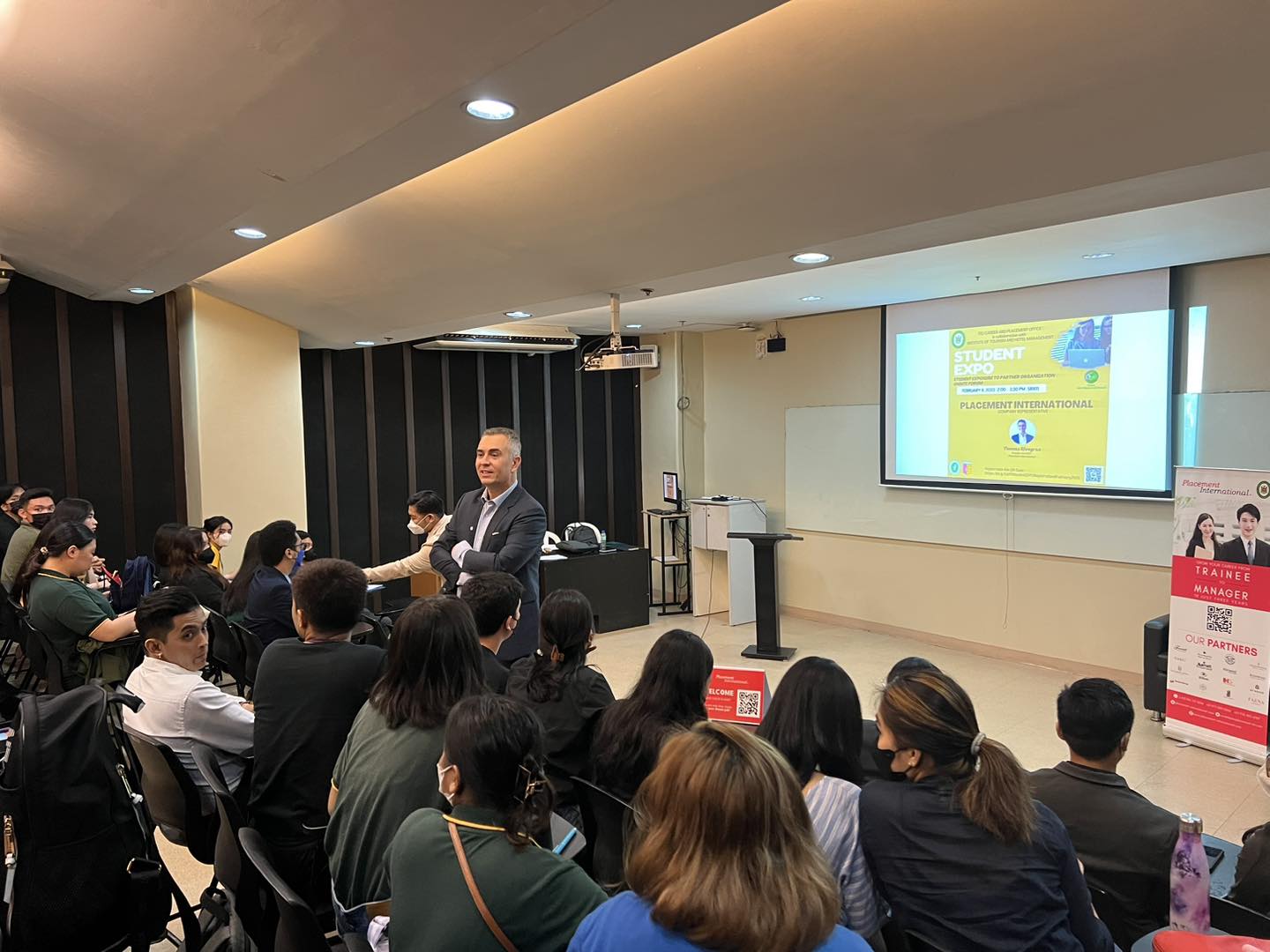 FEU-INDUSTRY PARTNER RELATIONS
Banquet (Building and Nurturing Quality Established Ties)
Banquet is an annual appreciation for industry partners spearheaded by the Placement and Industry Office to recognize partnership and provide avenue for an academe-industry exchange
INDEX (Industry Experts Forum) is a Focused Group Discussion (FGD) among industry partners and FEU spearheaded by the AAO which serves as an avenue for dialogue to improve curriculum and determine current trends in the workplace.
OTHER SERVICES
The CAPO Continuing Program refers to a holdover seminars and workshops to provide continuous support that will further equip the FEU graduates additional skills that will help them find employment. These are accounting for non-accountants, improving communication skills, developing presentation/pitching skills, entrepreneurship 101 (how to start a company), etc.
The Career and Placement Office provides graduating students an additional channel to find career opportunities thru job postings done variedly thru the managed social media sites such as LinkedIn, Facebook, and on FEU Website. This may also be posted thru the University Job Board both in FEU Manila and Makati campuses.