FEU International Relations Office homepage
Since 2021, Prof. Dorien Kartikawangi has been an adjunct professor of Far Eastern University.
"I am interested and willing to become an adjunct professor at [FEU] because of its reputation and also the culture that becomes the value to dig deeper and explore through collaborative engagement," she said.
Dorien has engaged in several teaching subjects: Communication Planning, Communication Management, and Knowledge Management. In each subject, she delivers three to four topics. Besides delivering theoretical and conceptual perspectives, she applied the student-centered learning method by engaging them, not only in Q&A but also in group discussion and presentation. This method is also to evaluate the effectiveness of the teaching-learning process in which students' understanding of the lecture substance is showing.
"Everything in our engagement is memorable, so hard to choose the most. Besides teaching, I have the opportunity to be part of international conference, visit beautiful heritage places, taste traditional food, and enjoy traditional dance. At the MOA signing and dinner, I engaged in a game called Hep Hep Hooray. It was hilarious when there were no gaps among us and we enjoyed that moment. I called it 'games diplomacy' which is part of communication strategy," she said.
Dorien heads the School of Communication at the Atma Jaya Catholic University of Indonesia, Jakarta. She is actively giving lectures at the School of Communication, Magister of Psychology, and Postgraduate Program of the Department of Communication Science, University of Indonesia, Jakarta.
She was invited as an adjunct professor at the Department of Communication at FEU. Her teaching and research focus is on organizational communication, public relations, corporate social responsibility, strategic communication, and digital communication.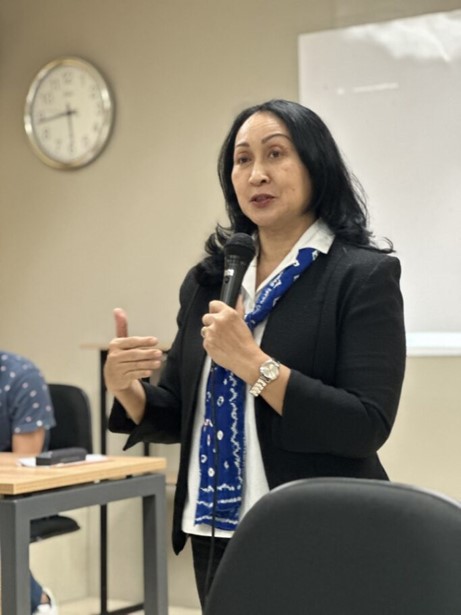 Photo by: Prof. Dorien Kartikawangi               
"I mostly teach online, but once there was an opportunity to visit after the pandemic. I was so proud when I had the opportunity to meet and greet leaders of the institution, scholars, faculty members, and also students. This is because I feel at home and become one of them, being part of this prestigious university," said Dorien.
She is an awardee of the Supersemar Scholarship, Stanvac, Canada World Youth – Ministry of Education and Culture, JICA, and Erasmus+.
Dorien is involved in various social organizations at the national as well as international levels: Chair of the International Communication Association-Indonesia Chapter; Vice-Chair of Competencies Development, Indonesian Public Relations Association; Committee of Asia Pacific Public Relations Research and Education Network, Executive Committee of Asia Pacific Communication Alliance.
She is also active in writing for various journals and is involved in multiple academic and professional forums at the national and international levels as a reviewer and speaker. Dorien is the founder of the "House of Kartika Kusuma," which oversees DK Consulting, a public library, and a batik gallery.