The University Research Center organized a Brown Bag session last October 19, 2022 with the aim of enriching the university's research culture.
This event served as a platform for discussion among researchers and scholars within the university community. The goal of the brown bag series was to serve as an impetus for researchers to engage in meaningful studies aligned with both the university's and respective institutes' research agendas.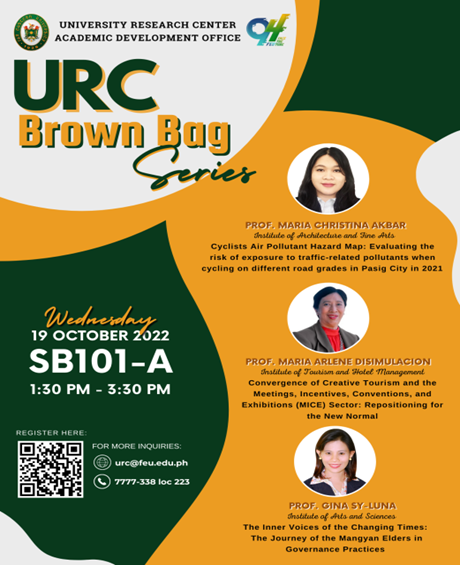 The session featured a combination of insightful presentations and engaging discussions. Three researchers were invited to share their expertise and research findings:
Architect Maria Christina Akbar presented her work on Cyclists Air Pollutant Hazard Map: Evaluating the risk of exposure to traffic related pollutants when cycling on different road grades in Pasig City in 2021.""
Ms. Maria Arlene Tuazon Disimulacion discussed her research on "The Convergence of Creative Tourism and the Meetings, Incentives, Conventions, and Exhibitions (MICE) Sector: Repositioning for the New Normal (August to December 2021)."
Dr. Gina Sy-Luna deliver about "The Inner Voices of the Changing Time: The Journey of the Mangyan Elders in Governance Practices ."
These presentations contributed to the exchange of ideas and knowledge during the session. By promoting a culture of open discussion and knowledge sharing, the event played a crucial role in advancing research efforts and facilitating interdisciplinary collaborations within the university.