Finally, we are back to normal post-pandemic times.
FEU was a leader in moving back to mostly faceto-face learning, and to opening up its campuses for healthy student social interaction.
Enrollment was strong at 51,000 students. Financial results across the FEU Group of Schools remained healthy, with a 20% increase in revenue and a 23% increase in Net Income to P 1.9 billion. Our theme this year is Continuity and Progress.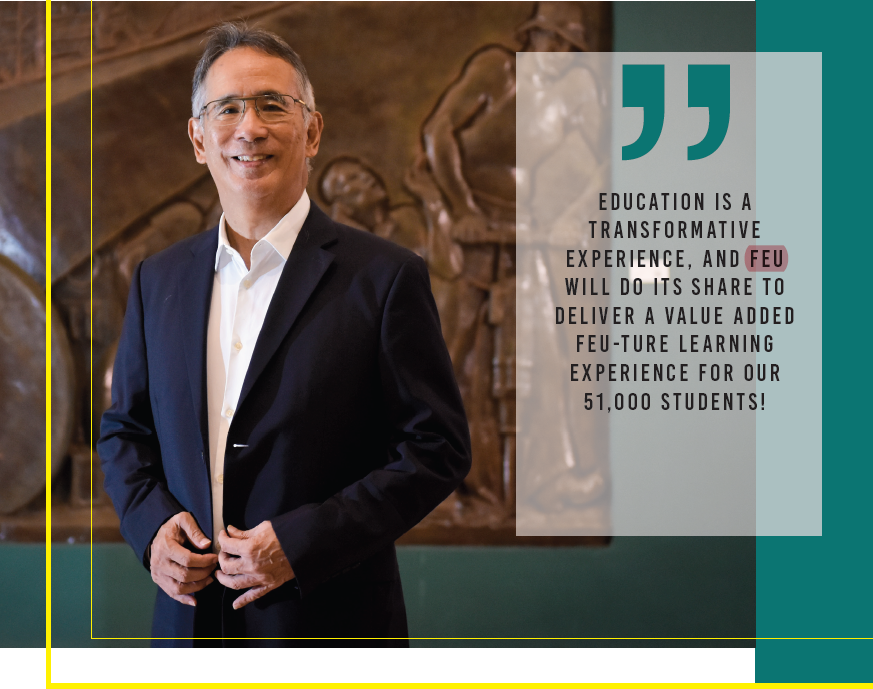 STRATEGIC PLAN
Despite two pandemic years, we are generally on track with our 2028 Strategic Plan.
For Distinctiveness with a Purpose, we have key programs in place for digital, academic, and administrative systems, beautiful and vibrant campuses, climate resiliency, and cybersecurity.
For Sustainability, we meet financial and renewable energy goals, while focusing on Succession Planning for our Top Talent and a 400 new Teacher development program.
On the academic side, we expect to retain our CHED autonomous status and now have 14 ASEAN University Network – Quality Assurance (AUNQA) accredited programs. We also exceed our internal goals for PhDs and Masters among our faculty members.
FINANCIAL RESULTS
Educational revenues increased by 20%, leading to a corresponding 20% increase in Total Revenue to P 5 billion. Net Income grew 23% to P 1.9 billion.
Balance sheet remained healthy with P 17.3 billion in Consolidated Assets, and a 28% Debt/ Equity ratio.
FEU manages 2,556 employees group wide, on a two thirds Academic, one third Administrative basis.
ACADEMIC
Our outgoing President, Dr. Michael Alba, will elaborate on this in his final President's Report.
During his 11-year Presidency, FEU grew significantly, from 3 campuses in 2012 to 10 campuses and 3 joint ventures today.
We rebranded in an eye-catching and conspicuous way, and we now call ourselves the FEU Group of Schools with a "Be Brave" mantra.
Noteworthy were Dr. Alba's crisis management skills in shepherding us through the K-12 transition, the COVID–19 pandemic, and the post- pandemic phase.
Through these all, FEU operated normally, set up Senior High Schools, had among the bestprepared Online Teachers, and was the first to resume primarily face-to-face learning in activity-filled campuses.
FEU added two programs assessed by the ASEAN University Network – Quality Assurance (AUNQA) for a total of 14 programs. Additional programs are lined up for accreditation in SY 2023–24, with Institutional Assessment as the next accomplishment.
On government licensure exams, FEU has consistently shown passing rates above the national average. Top notchers include Nursing with a 97% passing rate.
Our partnerships with JPMC College of Health Sciences in Brunei and Good Samaritan Colleges in Nueva Ecija had creditable first year of operations together
STUDENT ACCOMPLISHMENTS
We are proud of the performances of our graduates who were among the Top 10 – Kristine Bernadette Ilao for Medical Technology; Alec Maverick Cruz, Cedrick John Tayson, and Euhannah Karla Bacolod in Accountancy; Jazel Gayona and Ruth Quiestas for Teachers; Patricia Beatrice Dela Cena for Nursing; and John Kirt Baguio for Civil Engineering.
Notable were Philippine Quill Awards of the International Association of Business Communication. Internationally, we had entries in the Goldspire International Film Festival, the Kookai International Film Festival, the Work Film Carnival 2023, and the New Jersey Film awards.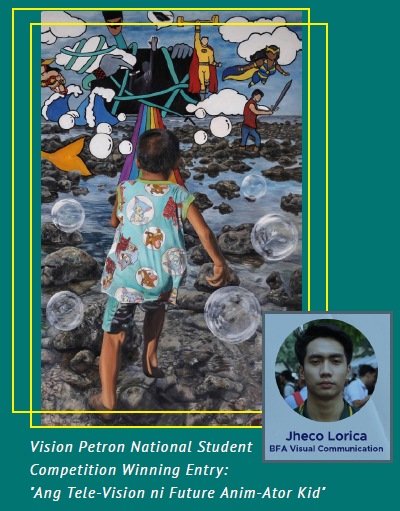 Our students were also awarded Ethics Champ at a Money Market Association of the Philippines Assessment Review. They won the grand prize at the Vision Petron National Student Competition and the UAAP Season 84 Logo Design competition.
Health Science and Nursing students won the best Oral Presentation at the 4th Sigma Asia Region conference in Dumaguete, and emerged champion of the 41st Philippine Association of Medical Technologies quiz show. A graduate student won as Outstanding Researcher and Innovative Teacher at the Philippine Association of Professional Teachers and Researchers, Inc.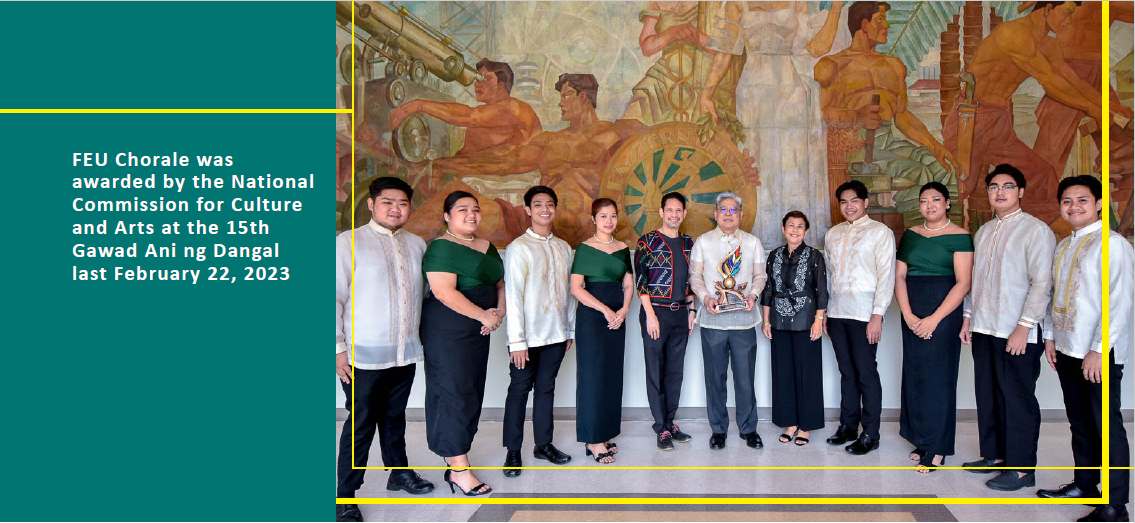 INFRASTRUCTURE
The FEU Manila Arts building renovation was completed; this includes a pioneer climbing wall which was inaugurated in September 2023.
Our Chief Information Officer formulated a Technology Resiliency Roadmap standardizing and networking our 10 campus network. This is a major step in institutionalizing FEU's digitalization journey towards administrative efficiency and helpful student customer service.
CULTURE
Far Eastern University was declared a National Cultural Treasure by the National Commission for Culture and the Arts (NCCA) through Museum Declaration 1-2018. Specifically cited were six buildings, the bronze Vicente Manansala outdoor sculptures, and the Carlos "Botong" Francisco inner works in the FEU Chapel.
FEU Chorale was awarded by the National Commission for Culture and Arts at the 15th Gawad Ani ng Dangal last February 22, 2023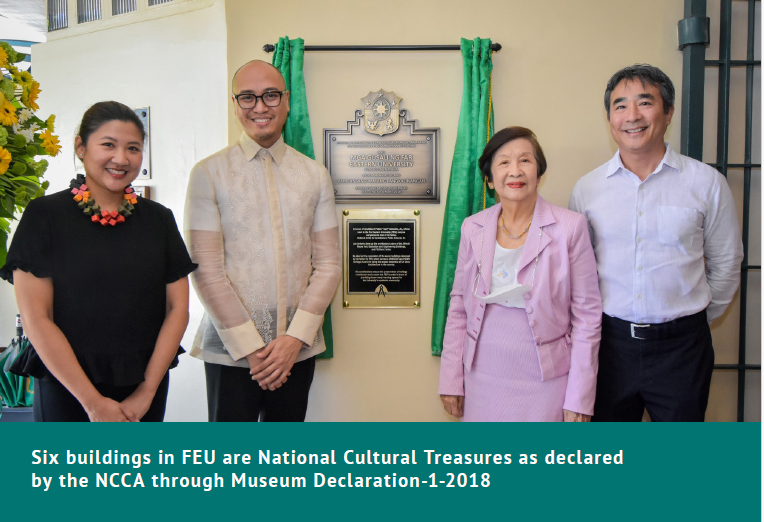 The FEU Dance Company received the Meritorious Performance Award from Sayaw Pinoy, second place in the Dance Supremacy Kings and Queens street dance competition, and runner-up in the UAAP Season 85 Ballroom Formation Dance Competition. In turn, the FEU Chorale was an NCCA recipient of the 15th Gawad Ani ng Dangal, or "Harvest of Honors."
Six buildings in FEU are National Cultural Treasures as declared by the NCCA through Museum Declaration-1-2018
SPORTS
FEU won 9 UAAP championships, including a rare treble in Men's Football, Women's Football, and Boys' Football.
Other championships included Boys' and Girls' Chess, Boys' Basketball, Boys' Volleyball, Boys 3×3 Basketball, and Boys' Beach Volleyball.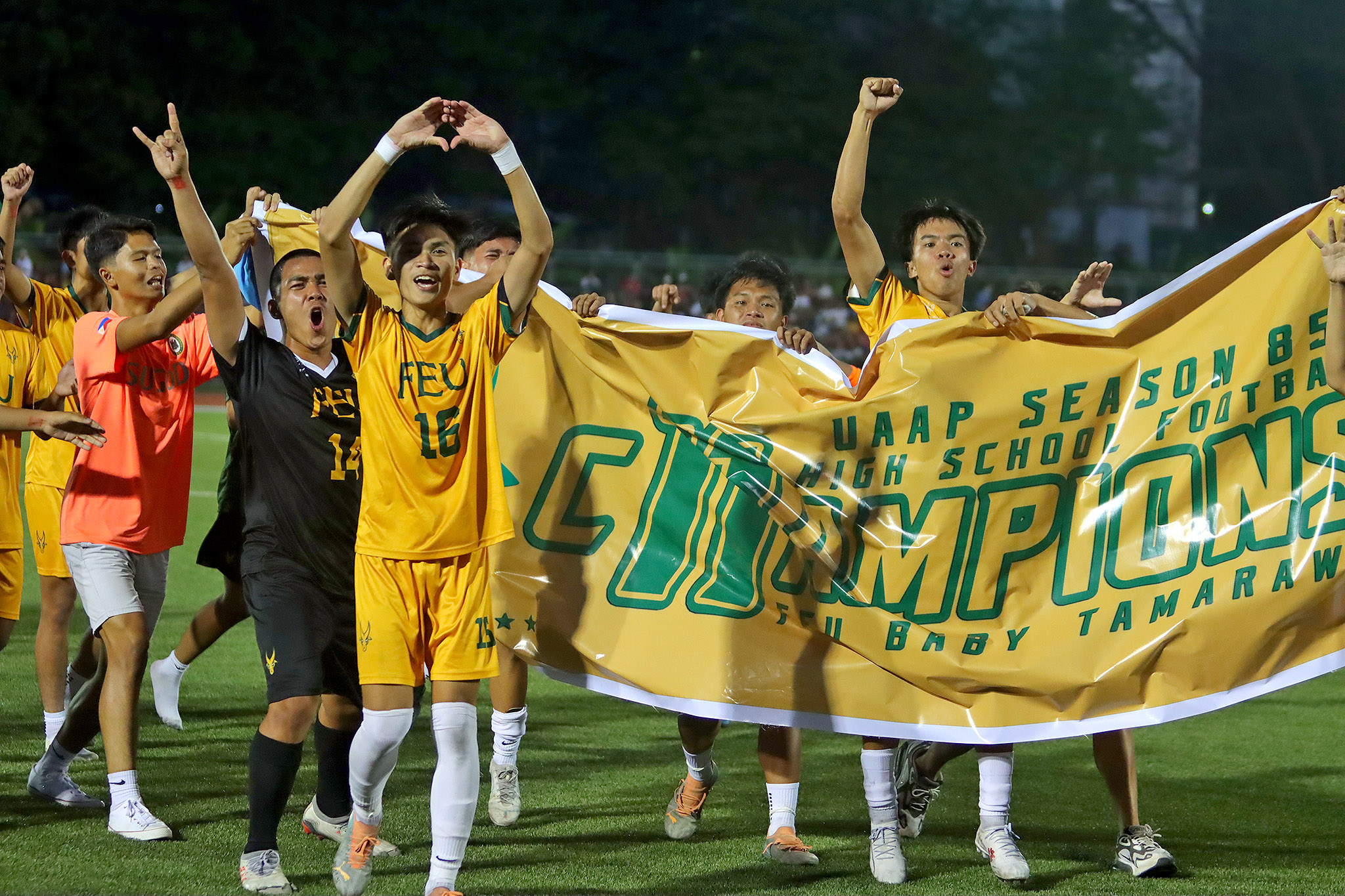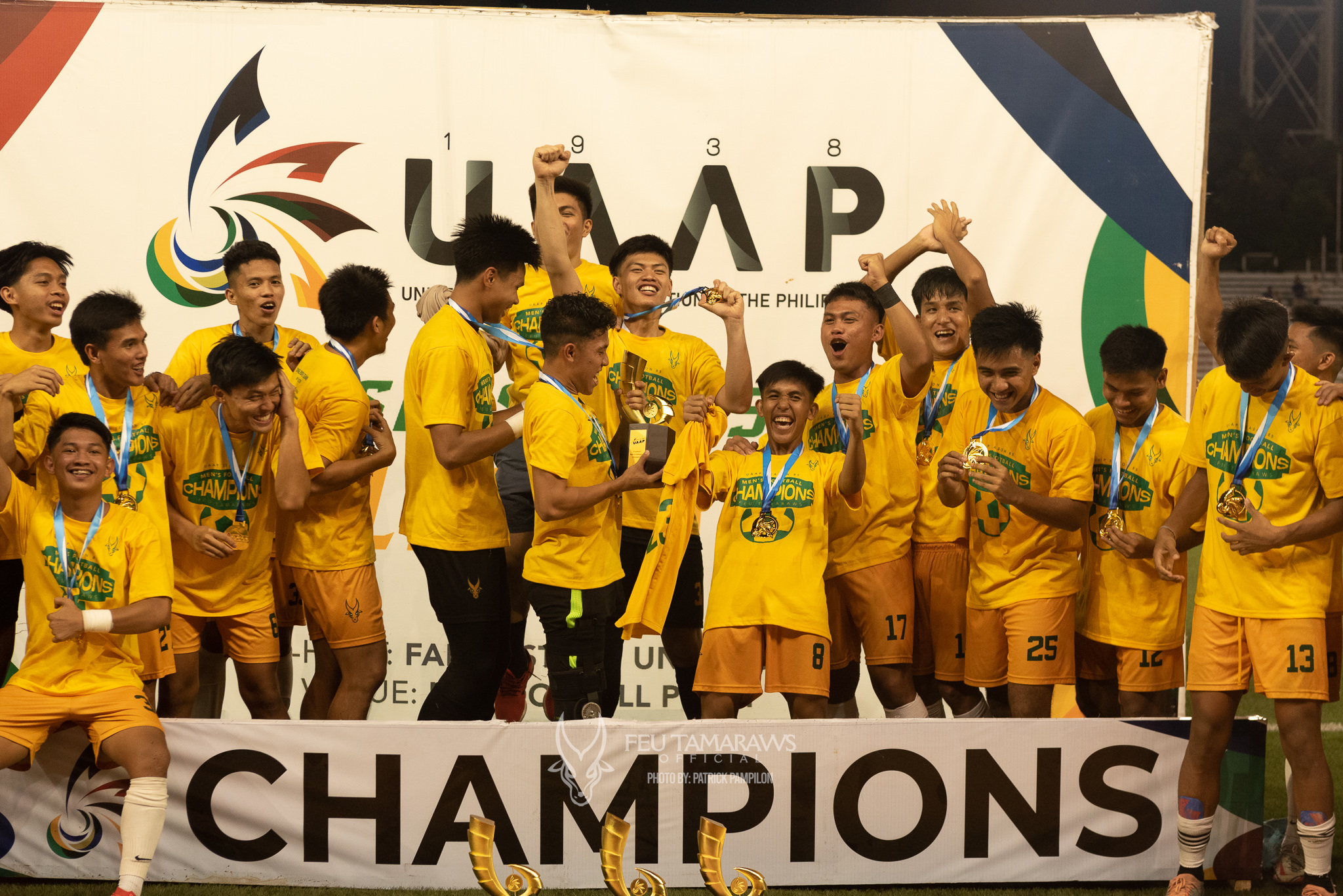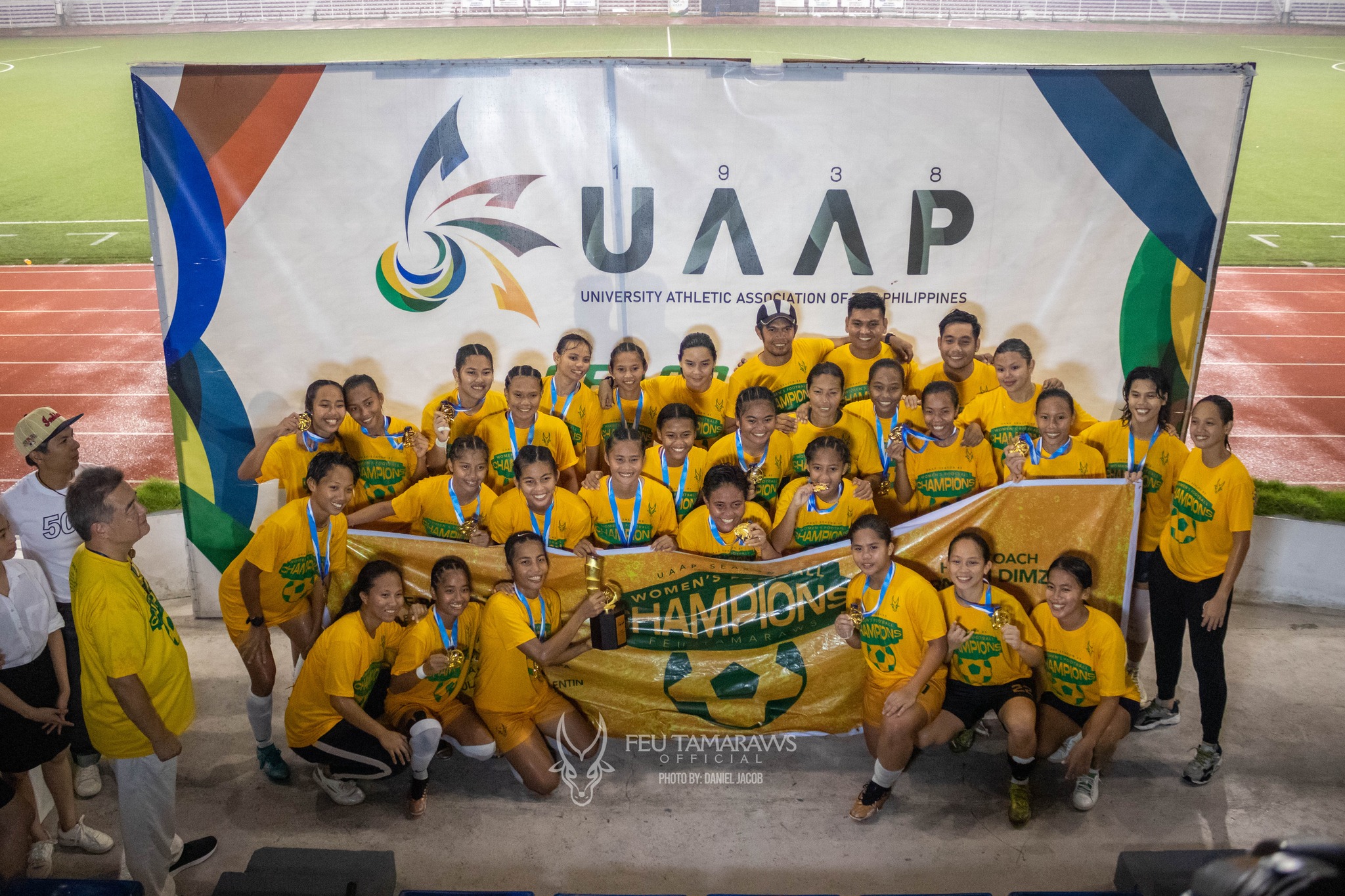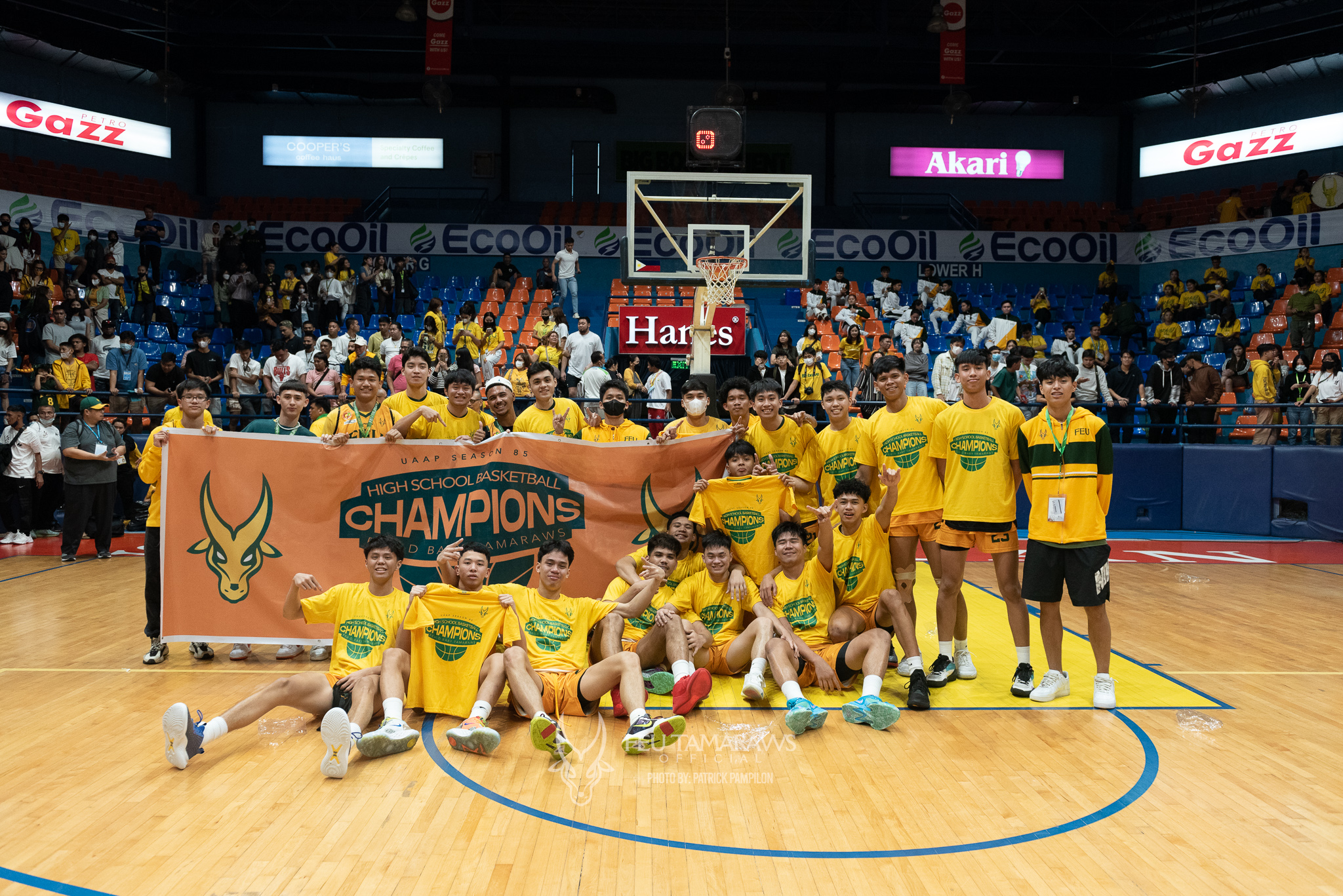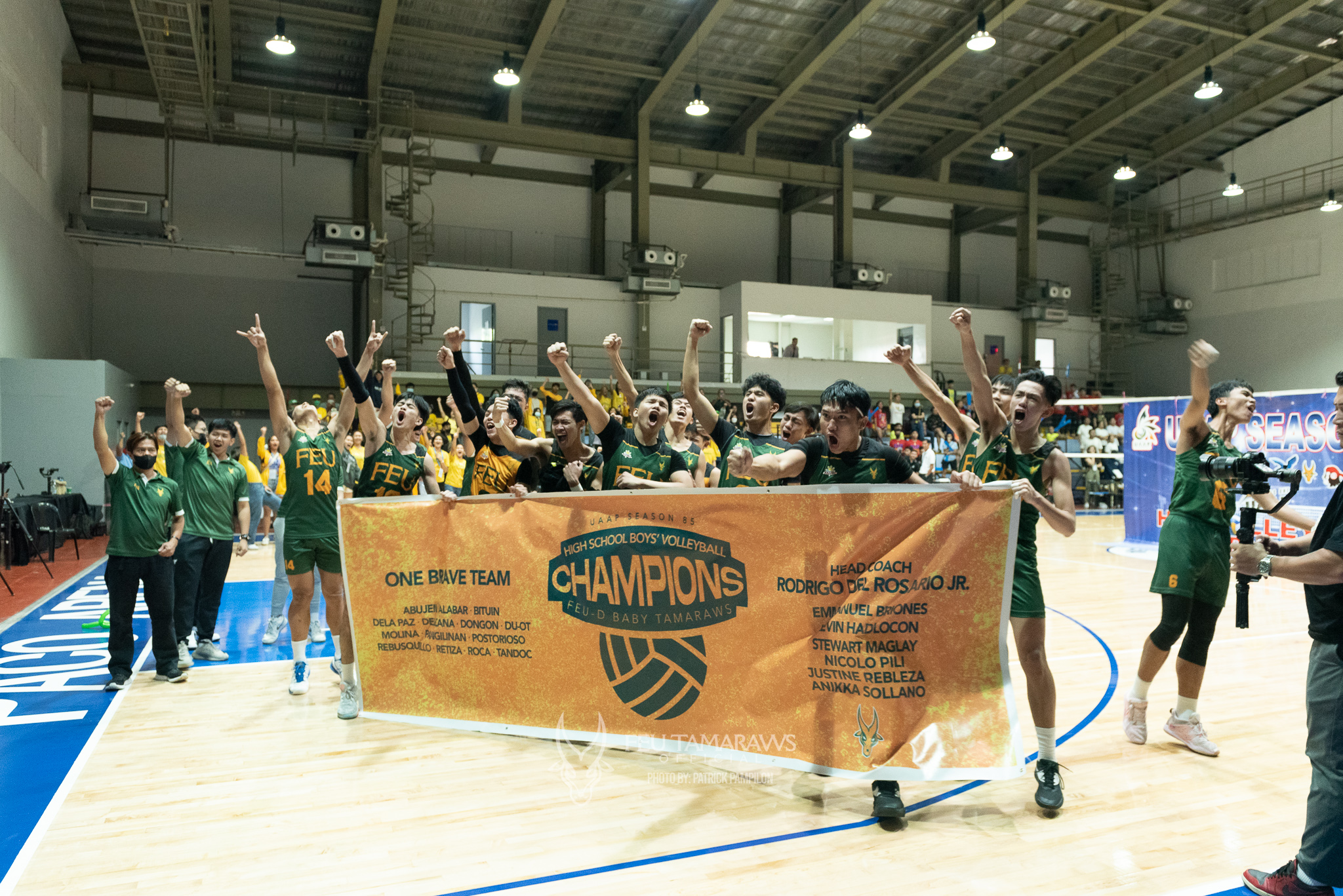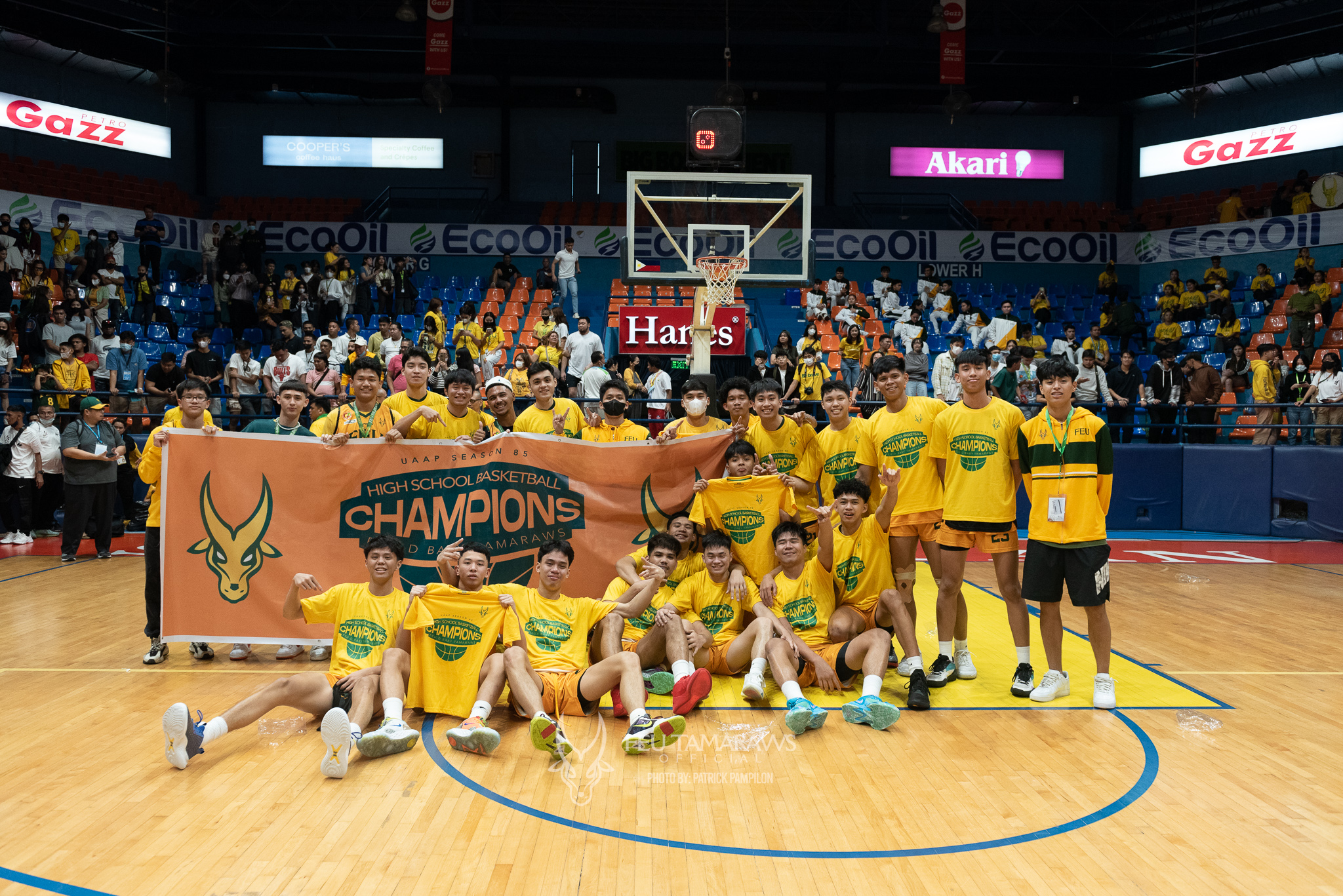 FEU also finished a very close second in the Cheerdance Competition. Equally satisfying was seeing 55 student-athletes graduate with college degrees from FEU Manila.
SUSTAINABILITY AND COMMUNITY EXTENSION
Our financial results continue our track record of Economic Sustainability.
We continue to make steady improvements in the Environmental and Climate Change mitigation space.
Aside from existing significant renewable energy sourced power in FEU Manila and solar installations in FEU Roosevelt, FEU Alabang won a coveted EDGE certification from the IFC denoting a "Green" building.
Also significant was a pivot towards more Social and Corporate Extension projects. FEU partners with the Manila City Jail female dormitory for a Bread of HOPE bakery and after care program for their health, psychological, literacy, and livelihood needs. Project Calatagan in Mindoro is an ongoing Mushroom Cultivation Program, while iTamTechnolohiya (Technology) supports coffee, health eye care, and barangays in Catanduanes.

AWARDS AND ACHIEVEMENTS
"A Guide to Gingers of Sorsogon" authored by Rudolph Valentino Docot and edited by Dr. Sandra Yap emerged winner of the 2022 Gintong Aklat Awards' Science and Technology category.
World Universities with Real Impact (WURI) ranked FEU Tech as 77th Innovative University.
The Institute of Corporate Directors awarded FEU a Golden Arrow in its annual ASEAN Corporate Governance Scorecard (ACGS) ceremony.
LOOKING FORWARD
"Educational Reform" in the country is badly needed given our well-publicized disastrous international test scores.
At the national level, we have an Edcom2 Second Congressional Commission on Education to review policy, as well as a DepEd initiative to simplify focus areas and curriculum in the Basic Education space. At the FEU level, we will be using this school year to review our own curriculum to make it more responsive to industry and student needs and to help in the United Nations Sustainable Development Goal 4 – inclusive and equitable quality education for all.
"Talent Management" will continue to be a core priority as we grow. We practice a policy of mostly internal promotion and selective hiring, and this has paid off with a new President, CFO, Corporate Affairs, Executive Directors and six new deans with impressive credentials. This remains a key component to FEU providing meaningful careers for its faculty and employees.
"Continuity and Progress" epitomize what we do. Accessible, Affordable Quality Education has always been our mantra, and we have made steady improvements in the traditional space. Today, we must move forward to enhance twenty first century skills inclusive of critical thinking, digital fluency, effective communication, and transferable job specific skills for continuous self satisfying employment.
SPECIAL THANKS
We salute and remember former Department of Education (DepEd) Undersecretary Juan Miguel Luz, for his insightful comments as former Trustee in the FEU Roosevelt and FEU High School.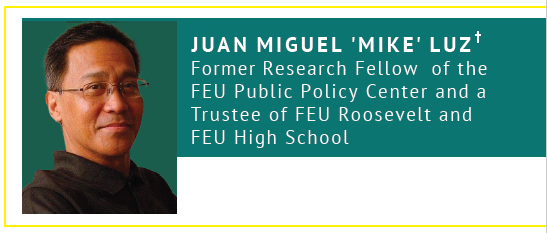 We thank Dr. Michael Alba for his 11 years of excellent stewardship, academic improvement, and business expansion for the FEU Group of Schools.
We welcome Mr. Juan Miguel Montinola as FEU's 12th President. Among others, he has been CFO for the past 13 years and is a principal contributor to both the 2015-2020 and 2028 Strategic Plans. We are confident that he will be successful espousing the FEU Values of Fortitude, Excellence, and Uprightness.
Finally, we thank our FEU stakeholders – our students, their parents, our employees, our Board of Trustees, our shareholders, our regulators, and our alumni for guiding us through this volatile world. Education is a transformative experience, and FEU will do its share to deliver a value-added FEU-ture Learning experience for our 51,000 students!
Be Brave!
Aurelio Reyes Montinola, III
Chairman, Board of Trustees
October 2023