Bachelor of Science in Psychology is a four-year program that provides students with an understanding of human behavior and mental processes. It promotes skills in scientific research and provides insights into the influence of psychology on contemporary thoughts and professional services in educational, industrial, clinical, mental health and other fields.
The Psychology program prepares students to be competitive graduates who are sufficiently trained in the industrial, clinical and educational settings to occupy positions in top companies. Enables students to recognize that learning is a lifelong and self – motivated process adhered with the core values of FEU (Fortitude, Excellence and Uprightness), which will help them to become reflective practitioners with a deep sense of commitment, and who possess professional integrity, excellent behaviors and moral conduct.
Under the current curriculum, the program is comprised of 3,600 hours of course work, including the 400 hours of field work or practicum.
In 1984, Ministry of Education, Culture and Sports granted a government recognition No. 140, series 1984 to BS Psychology signed by the then MECS secretary, Honorable Jaime C. Laya. In 2015, the program was endorsed for certification to the Federation of Accrediting Agencies of the Philippines (FAAP) for Level IV PACUCOA Accredited Status valid for the period December 2015 to December 2020.
BS Psychology graduates belong to Level VI (Baccalaureate) of the Philippine Qualifications Framework (PQF) under qualification code number 60313 as well as under the ASEAN Qualifications Reference Framework (AQRF). They are also qualified to take the Psychometrician Licensure Examination under the Professional Regulation Commission (PRC), along with any other certification assessments for global professional practice in the field.
The program welcomes all interested students from any senior high school track from a government-recognized institution who pass the FEU College Admission Test.
Hear from our Alumni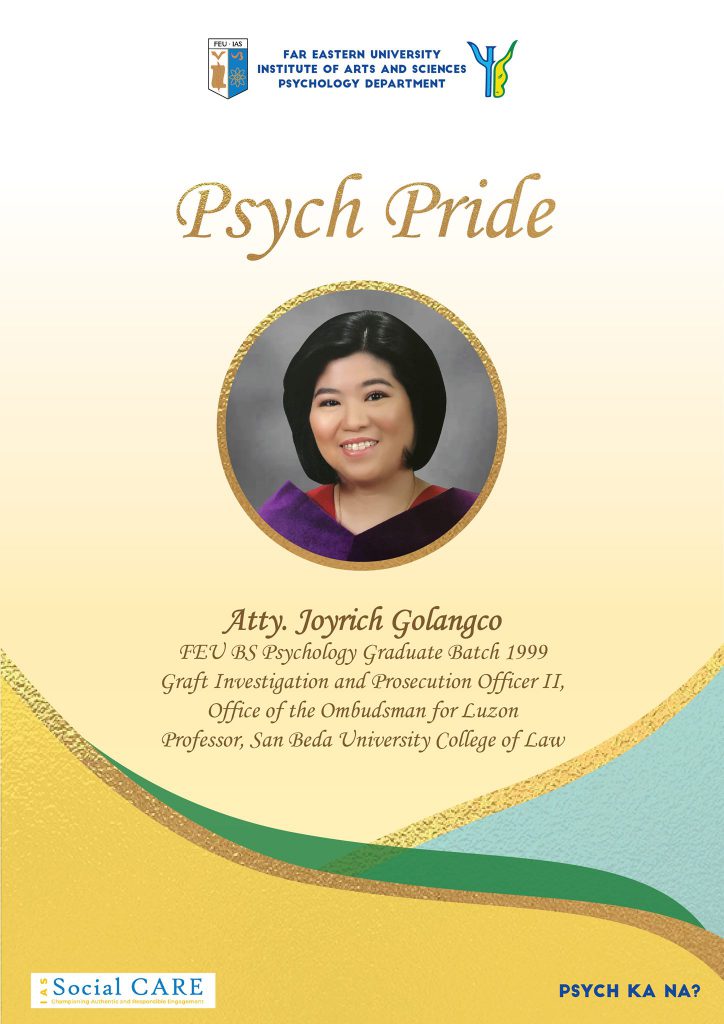 Atty. Joyrich Golangco, a graduate of FEU in 1999 with a BS Psychology degree, pursued a career in Law. She is the Graft Investigation and Prosecution Officer II at the Office of the Ombudsman for Luzon. "FEU helped me dream big and reach my full potential. The internship programs I took in my BS Psychology course equipped me with the skills I need to adjust to the rigorous training in law school. I would not be where I am now without the help of FEU". Golangco is also a professor at San Beda University College of Law.
Our Latest Webinar