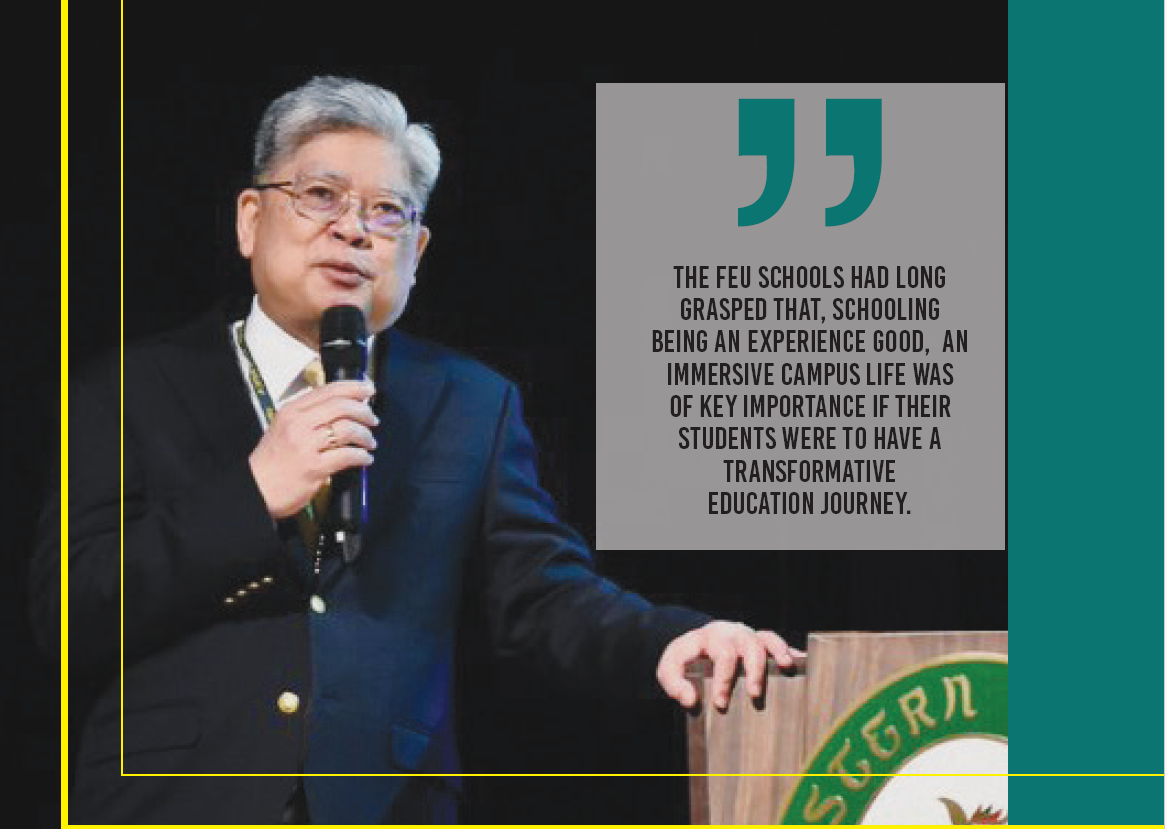 The "fever" from the global COVID–19 pandemic finally broke in 2022. With millions of people having gained some degree of natural immunity from earlier infection episodes and ramped-up inoculations in many countries using highly effective vaccines that had been developed in record time, in the world outside China the numbers of confirmed new cases and new deaths rapidly declined (Chart 1), even as new, more contagious variants of the SARS-CoV-2 virus continued to emerge.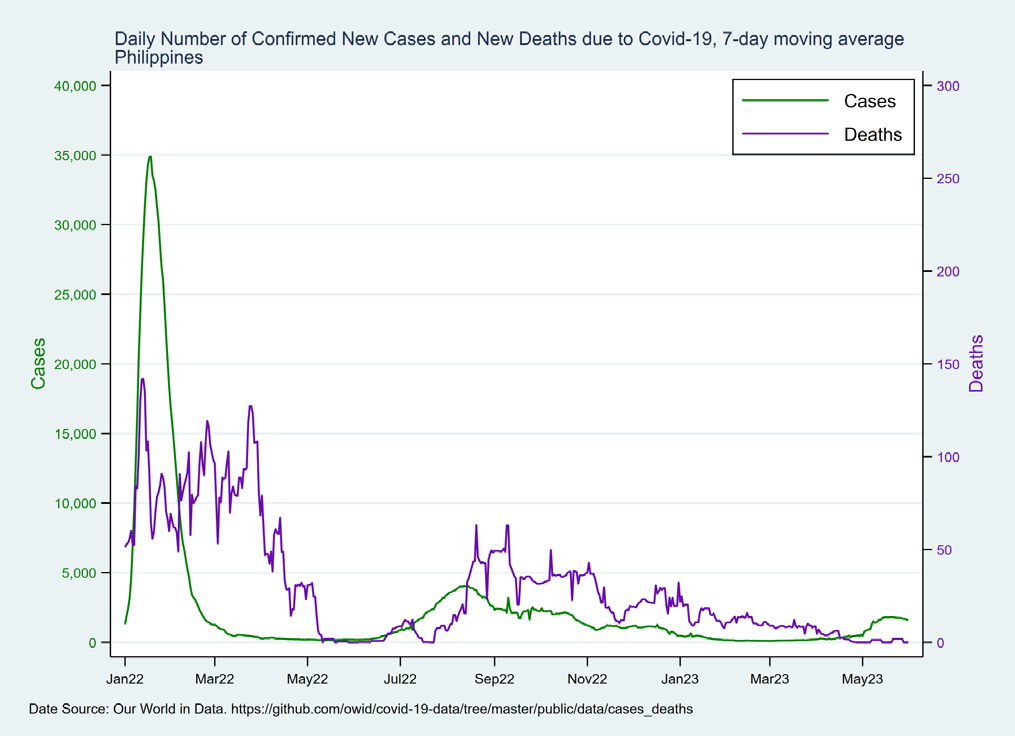 The Philippines more or less followed this global trend. By June 2022 to May 2023 (the reference fiscal year of this report), the country's COVID–19 disease burden had arguably eased: not only were there significantly fewer confirmed new cases and deaths (Chart 2), anecdotal evidence indicated a much reduced severe-illness incidence, with hospital admissions and intensive-care-unit bed occupancy no longer taxing the country's medical care resources.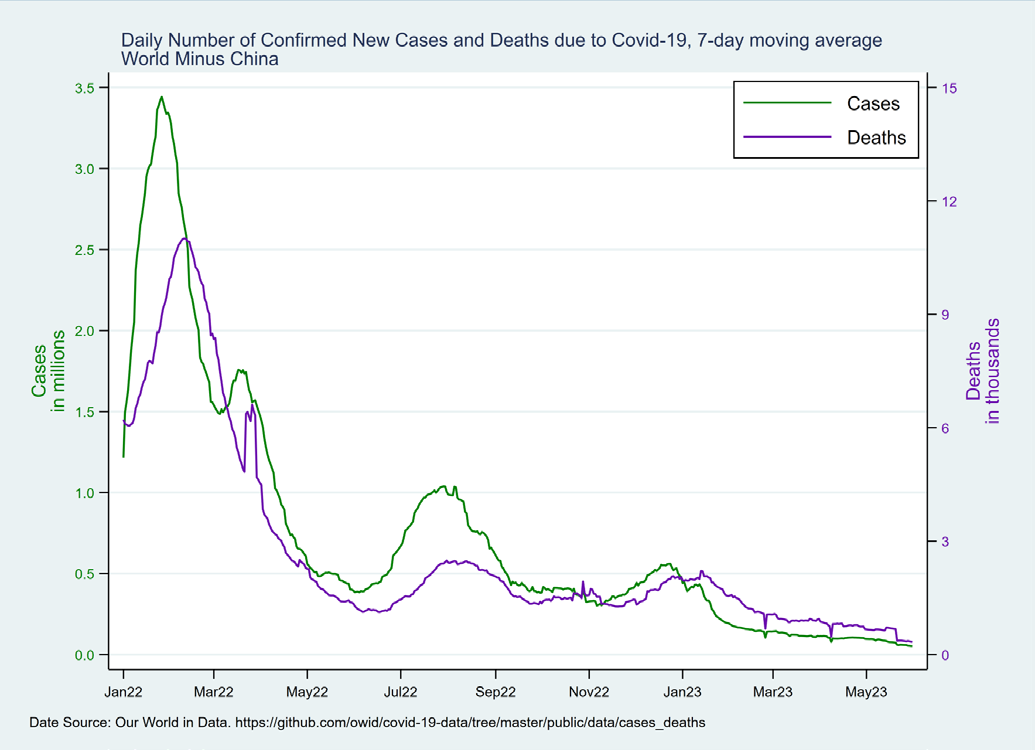 Quick to recognize the shifting winds, the FEU Group of Schools was among the first educational institutions in the country to fully open its campuses and re-normalize in-person schooling. Although well prepared for the remote learning set-up necessitated by the pandemic, the FEU schools had long grasped that, schooling being an experience good,1 an immersive campus life was of key importance if their students were to have a transformative education journey. Perhaps for this reason – in the first week of classes, students happily, tearfully, boisterously celebrated being physically back on school grounds – groupwide enrollment in School Year (SY) 2022–2023 grew a decent 15%, even after having rebounded by 14.% the previous school year. As a result, the student population of the FEU Group of Schools reached the 51,000 level for the first time in decades.
1 In economics, an experience good (or service) is defined as one in which at the point of sale buyers do not know the impact on them – in other words, the quality – of the consumption experience. Moreover, the quality of this experience varies across individuals, depending on their acceptance of the good's proffers.
QUALITY ASSURANCE AND DISTINCTIVE INITIATIVES
Each school refocused on its particular mission in the spectrum of FEU's strategic plans to maximize its contributions to both the Group's aspirations (e.g., produce graduates who demonstrate fortitude, excellence, and uprightness, and who are empowered to live meaningful lives and have good career trajectories) and the country's human resource and education-related societal ambitions (e.g., maximize the demographic dividend and nurture citizenship values).
Far Eastern University (FEU Manila), the flagship institution, continued to steadfastly project academic excellence, to be true to its credentials as an autonomous university – one of only 68 private higher education institutions (HEIs) to be so conferred in the 2019 (the latest) issuance of the Philippine Commission on Higher Education (CHED) – with 14 of its academic programs successfully assessed by the ASEAN University Network and all except the new offerings certified by either the Philippine Association of Colleges and Universities Commission on Accreditation (PACUCOA) or the Philippine Accrediting Association of Schools, Colleges, and Universities (PAASCU).
Moreover, its teacher education programs are a CHED Center of Excellence and its business administration program a CHED Center of Development. Its Institute of Tourism and Hotel Management (ITHM) also has a four-star Center of Excellence accreditation from the Asia-Pacific Institute for Events Management.
To further safeguard this reputation, in SY 2022–2023 FEU Manila effected a major structural change. The Institute of Nursing and the Department of Medical Technology of the Institute of Arts and Sciences were brought together to form the Institute of Health Sciences and Nursing (IHSN), to combine the faculties of the two health sciences and, prospectively, Nutrition and Pharmacy.
In addition, FEU Manila initiated activities that emphasized pedagogy. Drawing on the expertise of its Institute of Education, the Group's heritage campus prepared the faculty to return to face-to-face classes with FEU Craf t, a four-day training program that reviewed the principles of FEU's teaching-learning pedagogy and drew implications for student-centered practices in the new normal as differentiated from those during the pandemic years.
To lay the foundations for improving the quality of its training programs, the Academic Development Office beefed up its potential facilitators for both FEU Manila and FEU High School on how to design and implement a training matrix.
Contributing to the enhancement of the FEU schooling experience, Information Technology Services (ITS) developed the Tams Easy Assist Hub (TEAH). TEAH provides a single, online access point for FEU stakeholders to submit all manner of issues and concerns and applies a consistent and systematic approach to handling these, thereby improving the quality of customer services and significantly shortening the average response times of public-facing offices.
The Institute of Accounts, Business, and Finance (IABF) and the ITHM, for their part, entered into partnerships with schools in other countries to provide avenues for their students (and faculty) to gain international perspectives, thus enriching their schooling experience. IABF affiliated with Douglas College in Vancouver, British Columbia.
ITHM's students were afforded the opportunity to fulfil their internship requirements at Bay River College (BRC) in Calgary, Alberta. Doing so earns them professional certifications from the American Hotel and Lodging Educational Institute as well as a BRC diploma.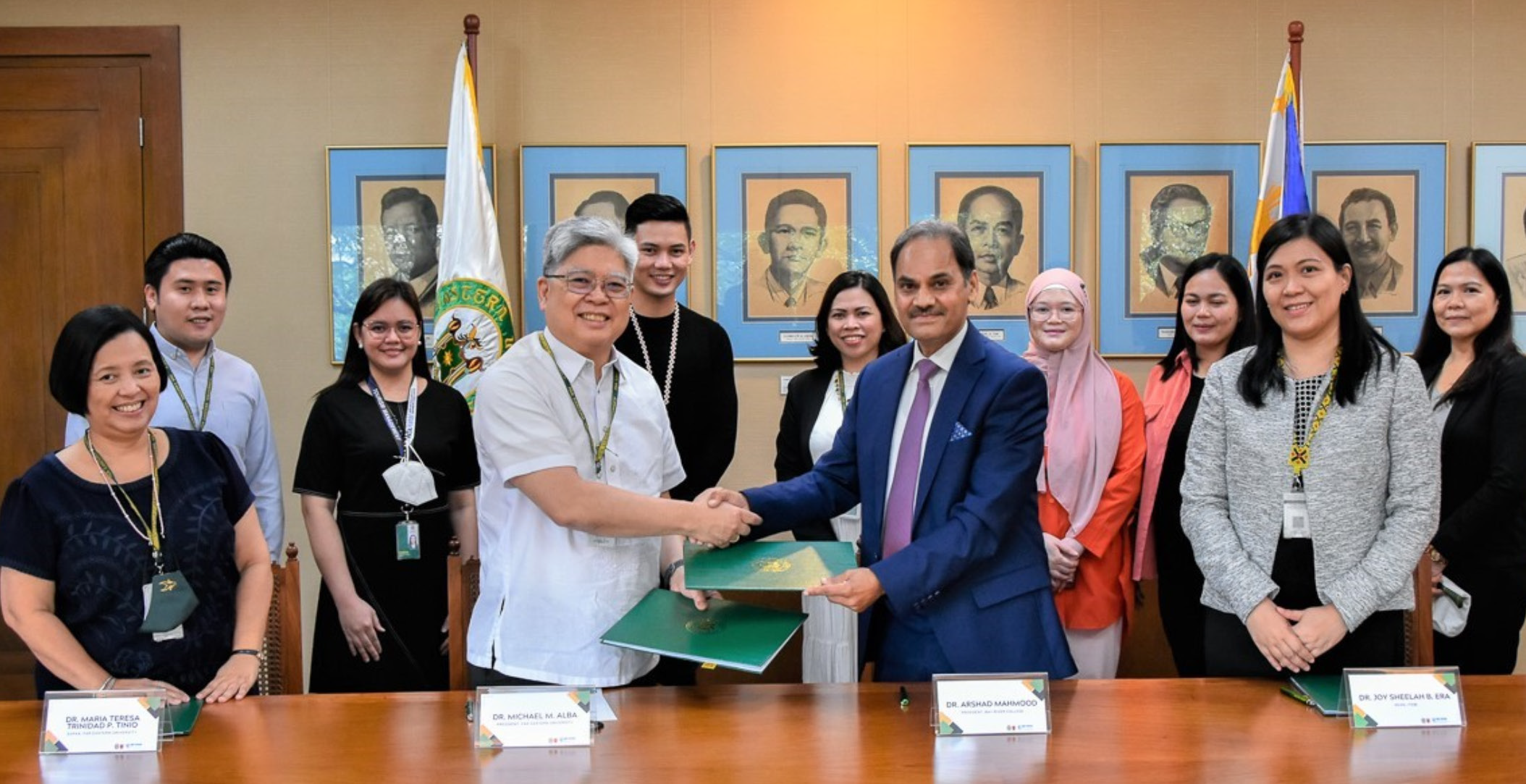 Possibly due to this academic excellence distinction, FEU Manila was awarded by the CHED an International Professional Education grant. The Innovations in Teaching and Learning toward Industry 4.0 and Smart Nation project is a still ongoing capacity-building program for Philippine higher education with FEU Manila as its host institution and Singapore's Nanyang Polytechnic International as its partner training institution.
FEU Institute of Technology (FIT), the information-technology and engineering arm of the FEU Group, located in Manila, Diliman and Alabang, made notable gains in accreditation and digital transformation. FEU Tech, the Manila campus, ranked 77th in the 2023 Global Top 100 Innovative Universities list of the World University Rankings for Innovations WURI, from 98th in 2022. By category FEU Tech ranked 13th in the Fourth Industrial Revolution, 20th in crisis management, 24th in entrepreneurial spirit, and 47th in ethical value.
FIT developed a major, possibly game-changing Education Innovation Technology Hub (EDITH), a network portal that provides one access point for all information systems that support the academic needs of students.
On quality assurance, FEU Tech has five of its eight academic programs that are already PAASCU-accredited, four of which are at Level III (Level IV highest). Work towards highest accreditation levels for all programs is ongoing.
BS Computer Science and BS Information Technology are currently compliant (until 2028) with the standards of the Philippine Computer Society Information and Computing Accreditation Board (PICAB), the accrediting agency representing the Philippines in the Seoul Accord. Moreover, as of SY 2022–2023 BS Civil Engineering, BS Computer Engineering, BS Electrical Engineering, BS Electronics Engineering, and BS Mechanical Engineering were compliant with the Washington Accord standards.
For the FEU Group of schools, basic education is offered in FEU High School, FEU Diliman, FEU Alabang, FEU Roosevelt, and FEU Cavite.
The noteworthy innovation was the integration of computer programming in the curriculum. The CLICK program is anchored on the following learning objectives: Coding to develop critical and creative thinking skills, Logic or linear thinking as an approach to problem solving, Innovativeness, Character building (especially grit and integrity), and Knowledge-based learning. It is intended to attune both teachers and students to 21st century skills through coding.
Python is exclusively used to cover programming basics; flowcharting; games/applications development; databases; SQL keywords; and data processing/manipulation, analytics, and visualization.
In regard to FEU Roosevelt, the significant achievement was a 25% enrolment increase for SY 2021–2022 which was then followed by a 43.1% increase for SY 2022–2023. This development allowed its campuses to enjoy the benefits of scale economies for the first time in a long time – an example of which is a new, multi-story school building in the Marikina campus that was officially opened in February 2022.
PERFORMANCE IN LICENSURE EXAMS
FEU Manila's first-time examinees continued to do relatively well in Elementary (100%)- and Secondary-Level Teaching (83.33%), Nursing (97.82%), and Psychology (100%). However, results in other programs were below FEU's standards implying that teaching and learning in these disciplines were adversely affected by the pandemic. Comprehensive analysis of the results has been deliberated and holistic improvement measures including earlier interventions to underperforming students at onset of their first major subject will be undertaken.
FEU Tech's first-time examinees in the engineering disciplines appear to have likewise been affected by the pandemic. Similar improvement measures are in place.
On the flip side, to be commended was FEU Alabang's inaugural performance in the licensure exam for Mechanical Engineering. Twelve of 13 examinees (or 92.3%) successfully hurdled the August 2023 exam, upstaging FEU Tech's passing rate.
RESEARCH PUBLICATIONS
The FEU Group research submissions improved by 10% overall to 160 published articles in Scopus-or ISI/WoS- indexed journals but still below the aspired number. FEU Manila's output declined, which was however more than offset by the submissions of FEU Tech and FEU Diliman.
COMMUNITY EXTENSION SERVICES
FEU as an HEI is by its nature a teaching and learning organization, it develops parallel monitoring and evaluation activities so that the impact of community extension projects may be measured, and others such as nongovernmental organizations may learn from the documentation of such projects.
The CES Projects in SY 2022–2023 include:
• Project HOPE (Harnessing Offenders' Personal Empowerment): This tripartite partnership with female persons deprived of liberty (PDLs) and the jail. The programs in Project Hope support the aspirations of SDG 2: zero hunger, SDG 11: sustainable cities and communities, SDG 4: quality education, SDG 8: reduced inequalities and a good citizenship program for those to be released.
• Project Mangyan: Adopted because of the Mangyan's cultural and ecological connection with the tamaraw, which is the FEU mascot, this project is meant to uplift the lives and improve the living conditions of the indigenous peoples in Occidental Mindoro. The program supports the aspirations of SDG 2: zero hunger, SDG 8: promote inclusive and sustainable economic growth, SDG 3: promote good health and well-being and SDG 6: clean water and sanitation for all.
• Project SAM (San Agustin Museum): This collaboration with the museum is intended to address the protection of the world's cultural and natural supporting the aspirations of SDG 11: sustainable cities and communities.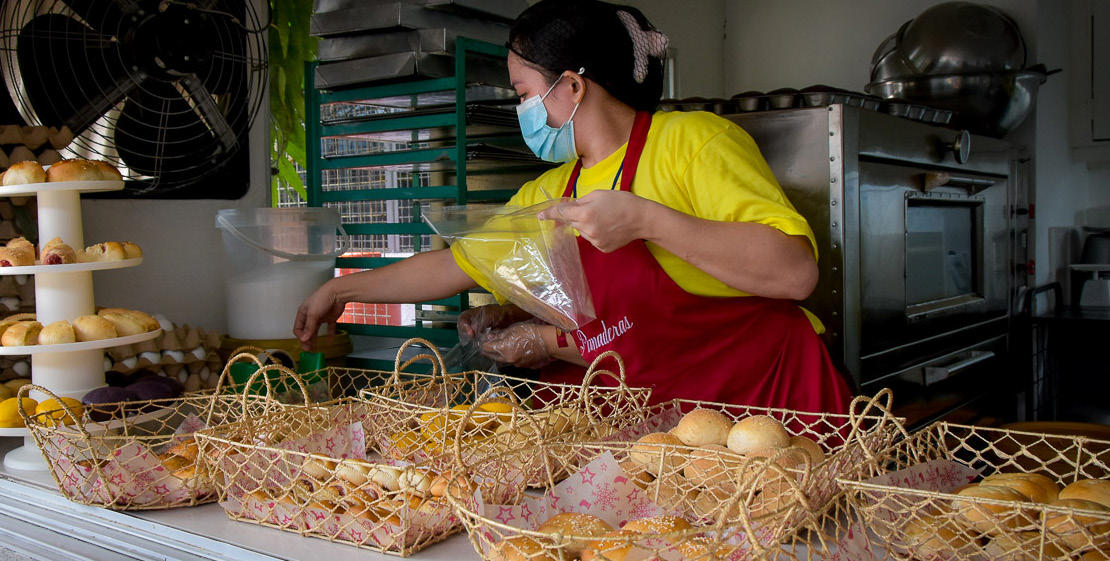 THIRD PARTY ENGAGEMENTS
FEU having contracted the World Bank Group's International Finance Corporation in three projects in April 2022, the consultancy work began in the early months of SY 2022–2023 and continues in earnest in the D4TEP (Digitalization for Tertiary Education Program), which aims to provide the FEU Group of Schools with a roadmap of its digital transformation journey, as well as in Vitae, a 360o assessment that is intended to improve the employability of FEU graduates.
In the EDGE (or Excellence in Design for Greater Efficiencies) initiative, a major milestone was quickly reached when FEU Alabang was awarded the green-building certificate on 9 May 2023, the first academic building in the country to receive the distinction. That the honor was obtained within a few months was a testimony to FEU's having already firmly committed to making its business model, infrastructure and school grounds, and practices and processes sustainable, innovative, and climate-change resilient.
CONCLUDING REMARKS
In SY 2022–2023 the FEU Group of Schools was among the very first HEIs to reopen its gates for in-person schooling in order to enable students to experience the vibrant campus life that FEU strongly believes is key to students having a transformative schooling journey.
With COVID-19 in retreat, the schools refocused on their missions and, to execute them, pursued academic excellence projects, improved the quality of teaching and learning, developed education-technology and curriculum innovations, improved customer services, raised enrollment levels, attested to sustainability and climate-resilience endeavors, among others. The undertakings were necessary and urgent given the evidence that remote learning during the pandemic years had adversely affected quality standards. The various exertions have initiated positive turns in the direction of recent trends.
The FEU Group of Schools is back on course to its pre-pandemic trajectory. Its ambition is undimmed, its future bright as ever.
A FINAL WORD
As perhaps readers already know, this is my last president's report. I retired on 31 July 2023, and have been succeeded by President Juan Miguel R. Montinola. Serving as the 11th president of Far Eastern University for ten years and nine months has been the high point of my life, even as that tenure spanned a most challenging decade that saw a surfeit of legislative, regulatory, and public-health shocks to the education sector.
I thank Chair Emeritus Dr. Lourdes R. Montinola, Chair Aurelio R. Montinola III, and the trustees of the various boards of the FEU schools for their trust and support as well as the top management officials, the various deans, academic and non-academic managers with whom I "toiled in the trenches". I also express deep gratitude for the staff of the Chair's and President's Offices, who were my office co-workers and with whom I interacted daily.
To Tamaraw Nation, please know that I did – and still am doing – my level best to carry the flag for FEU. May our beloved university live long and prosper. Far Eastern Onward!