Amid the vibrant tapestry of Asia's diverse cultures, Martin Lopez, Director of the FEU Center for the Arts (FCA), took center stage as a distinguished juror at "Asia Folk 2023". This enthralling folklore and handicraft festival, held in the historic Sukhbaatar Square of Ulaanbaatar, Mongolia, transported attendees into a realm of artistic expression reminiscent of a peaceful revolution that echoed EDSA 1 in the Philippines during the mid'80s.
The venue, Sukhbaatar Square, itself a testament to the transformative power of collective action, served as a fitting backdrop for this celebration of Asian heritage. The square, which witnessed a similar awakening in Mongolia's history, was transformed into a realm of captivating visual displays and captivating sounds. The Philippine flag fluttered proudly alongside those of other participating nations, an emblem of unity amid diversity. As the festival's curtains lifted, Lopez felt his heart swelling with pride and joy as he represented both his role as a juror and his Filipino identity.
For Lopez, judging the performances of "Asia Folk 2023" was no easy task. In evaluating the performances, he meticulously considered myriad elements, from costumes that reflected cultural heritage to the infectious energy radiated by the participants.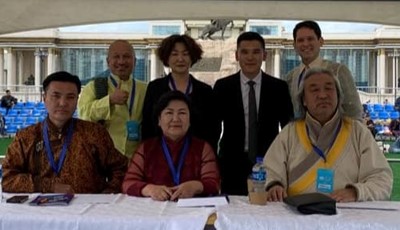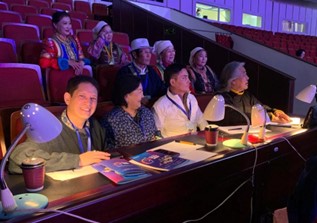 "Soloists and ensembles, musicians and dancers, the young ones and the 'young-once' all competed against each other in several rounds in indoor and outdoor venues. I gave extra points to the enthusiasm and energy of the performers even if their pieces were meant to be challengingly slow and seemingly sad. Of course, the quality of the performance and the level of talent had to be spectacular," said Lopez.
In gratitude for the honor bestowed upon him, Lopez extended his appreciation to the festival's organizers. Among them, Joe Sidek, President of the Penang Arts Council, and a prominent figure in Asian cultural promotion, stood out. Sidek's influence and respect from the arts community prompted Lopez to contemplate the potential for greater admiration and recognition for the Philippines' own national artists on a global stage.
With the privilege to speak during the closing ceremony, Lopez voiced his admiration for every contestant, emphasizing their role as sources of pride for their respective cities, provinces, and countries.
Armed with an unforgettable experience, Lopez envisions a future where the Philippines takes its place on the international stage, representing its rich cultural tapestry in similar festivals.