The Institute of Tourism and Hotel Management is once again leading the way in providing innovation and sustainability initiatives at the core of Far Eastern University's vision and mission.
Recently the institute's Hotel and Restaurant Management Department launched its Sustainable and Innovation Program Advancement for Tourism and Hospitality (SIPATH), spearheaded by ITHM Dean Dr. Harold Bueno; and Chef John Lester Tuason, Associate Dean.
Part of SIPATH is the revision of its curriculum, which is now aligned with specific Sustainable Development Goals (SDG) in its course-offering.
Jan Racky Masa, a certified sustainable education trainer for culinary professionals, played a pivotal role as the Department Chair of HRM, as he introduced various initiatives in sustainability and innovation. Masa's collaborations included partnerships with Feed the Planet and the World Chefs Association.
The SIPATH program aligns various initiatives in one framework that reinforces ITHM's commitment to integrate the 17 SDGs into its academic framework. Each course offered in the curriculum is strategically designed to address specific SDGs, alongside the rigorous implementation of the Code of Ethics in Tourism.
It is aimed to equip students with the knowledge, skills, and attitudes necessary to become future leaders in the tourism and hospitality industry who are committed to sustainable development.
The SIPATH program takes a holistic approach to sustainability education, recognizing the importance of not only intellectual understanding but also practical application and ethical values. Through SIPATH students will have the opportunity to engage in hands-on projects and experiential learning activities that promote sustainable practices in the industry.
The students are encouraged to think critically and creatively about the environmental, social, and economic impacts of their actions and decisions by creating awareness and exerting conscious effort in achieving sustainable practices.
The HRM Deparment's dedication resonates among its faculty members, namely: Chef Richard Tabuena; Dr. Mark Alvero; and Dr. Anna Pamela Jonson—all of whom have earned certificates in sustainable education for culinary professionals.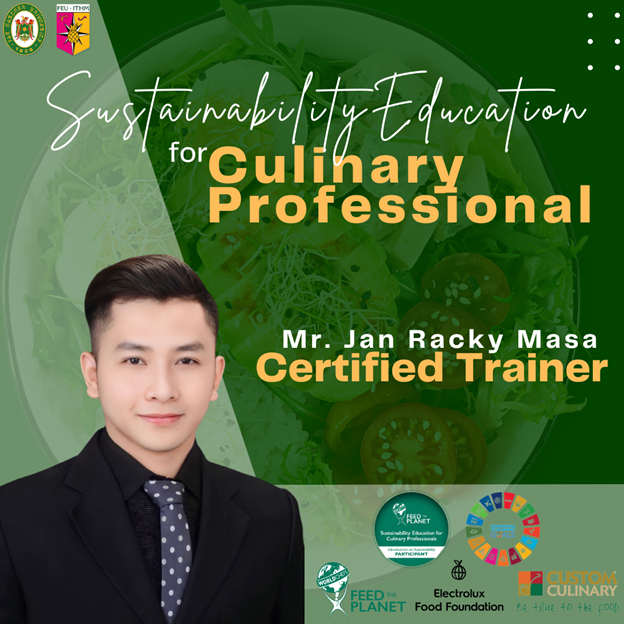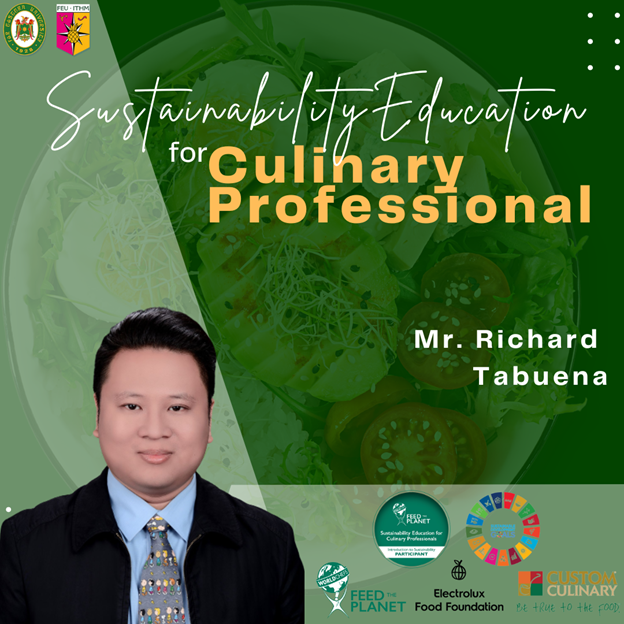 Students taking the professional elective course HOM1105: Sustainable Hospitality undergo series of training, theoretical foundation, and practical application to earn certificates of sustainable education for culinary professionals. The SIPATH program consists of seven essential components aimed at promoting sustainability in the industry. These components include training trainers, transferring knowledge through various programs, integrating sustainability and innovation throughout the curriculum, implementing a zero-waste model with the ITHM Sustainable Food Waste Management program in collaboration with Greenspace and WWF.
Additionally, the department actively promotes responsible consumption, conducts research projects on sustainable practices, and communicates its advocacy efforts effectively.