Not many fabrics can truly represent Filipino culture and identity as the piña can.
The most resplendent among Philippine textiles, piña served as a symbol of femininity, sophistication, honor, and independence, but there is still much to be said about its future in a world of technological innovations.
In line with this, Far Eastern University (FEU) partnered with HABI: the Philippine Textile Council to co-publish "Piña Futures: Weaving Memories and Innovation" written by Randy M. Madrid, PhD.
Madrid is a prolific educator and researcher, and he is a known advocate of cultural heritage conservation and safeguarding, with a specific interest in Central Philippine textiles.
Drawing inspiration from the 1990s book "Piña" published by FEU Chair Emeritus Dr. Lourdes Montinola, this seven-chapter, 280-page quintessential sourcebook weaves into the proud story of the one and only "Queen of Philippine Fabrics."
It offers fresh insight into the role of piña as an artisanal fabric, a trade commodity, a garment of honor and identity, and a treasure of the world.
"I am proud to see that after two decades, another book has come to fruition. 'Piña Futures: Weaving Memories and Innovations' honors the piña cloth's past, present and future. It celebrates the history and the promise of design possibilities," says Dr. Montinola.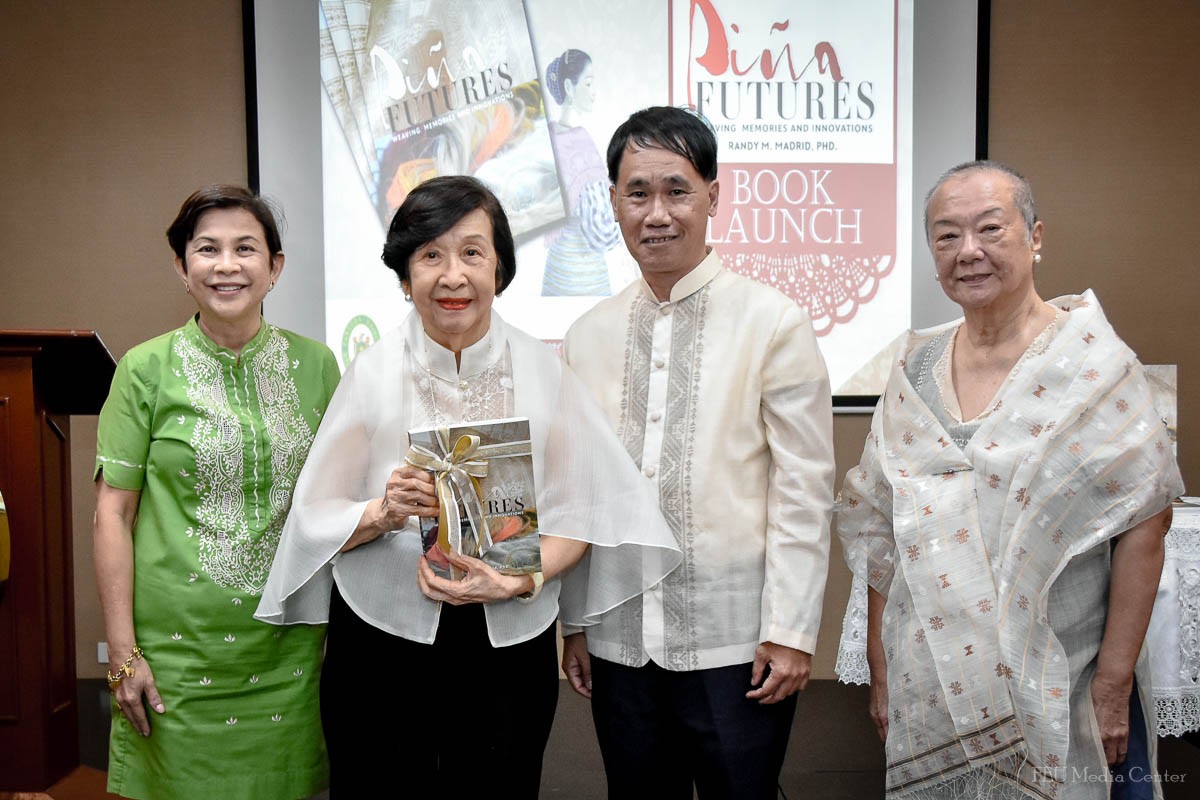 Weaving Filipino memory and identity
"Piña: From Island Textile to World Treasure," offers a glimpse of how the piña industry started on the island of Panay.
Madrid's book tackles how the textile evolved along with the flow of Filipino history, from symbolizing the memory of colonization to representing the fight for freedom and independence.
It then walks readers through the careful and demanding process of production: from the scraping and stripping of the pineapple fibers to the weaving and embellishment of the fabric.
The imagination and hard work that the weavers, who are described to be constantly knotting broken threads, put into making this exquisite fabric openly speak about the generally creative and hardworking culture of the Filipinos.
Today, the piña cloth typically acts as the main fabric for most traditional Filipiniana dresses, wedding attires, and the Barong Tagalog. It is also used for tablecloths, mats, and other clothing items.
International fashion and textile experts have spoken about the piña's rare versatility and durability, which Madrid's book spoke of as highly representative of the Filipino character.
Preserving culture through innovation
HABI Chairman and Founder Maria Isabel Ongpin does an exceptional job of highlighting what the core concern of Madrid's book is: piña's future.
"In a world of modern products made of manufactured, artificial materials, how will piña keep its place as a reigning queen of Philippine fibers turned into coveted fabric?" Ongpin poses the question in the cover of the book.
Piña has established itself in history, and in the present, it proves to be a valuable fashion and cultural emblem. However, there is no lack of thought and effort into preserving its art and function for the future.
FEU, in its commitment to promote local wear and textile heritage for the Filipino youth, is known to host annual textile events such as the Hibla Fashion Show and the Lourdes Montinola Piña Weaving Competition, which Madrid made sure to feature in the book.
Last October's Piña Weaving Competition, which took place in-person once again after going virtual for two years, saw many young piña weavers under 30 years old excelling in their craft. Furthermore, the competition saw not just the revival of traditional weaving methods but also the introduction of new innovative techniques.
FEU aspires to create a community of socially aware Filipino designers, and the hope is for these designers to continue weaving piña in a way that adapts to modern innovations without sacrificing its authenticity and the culture it represents.
"Piña Futures: Weaving Memories and Innovation" is a book born from this hope. It presents piña not just as a treasure of the present world, but also as the queen fabric of the future.