From left to right: Department of Communication Chair Herwin Cabasal, Prof. Reyjane del Campo, Prof. Augustus Ceasar Latosa, VP for Corporate Affairs Dr. Rowena C. Reyes, Prof. Gwenetha Pusta and Media Center Manager Prof. Nikko Visperas
Bandung, Indonesia—Far Eastern University, together with Universitas Padjadjaran and University of Pretoria, co-hosted the 29th Asian Media Information and Communication Center (AMIC) Annual Conference from Sept. 21 to 23 at Savoy Homann Hotel here.
The United Nations Educational, Scientific, and Cultural Organization (UNESCO) was the major conference partner of "Talk ASAP: Africa-Asia Dialogue on Communication Issues."
AMIC had a record-breaking number of abstract submissions of 444, and out of those, 368 were accepted for parallel sessions. The conference was participated in by more than 200 communication teacher- and student- delegates from 22 countries in Asia and Africa.
During the opening ceremony, Dr. Crispin Maslog, AMIC chairman, Dr. Rowena Capulong Reyes, FEU Vice-President for Corporate Affairs, Dr. Rina Indiastuti, Rector of Universitas Padjadjaran, and Dr. Hening Widiatmoko, Deputy Governor of West Java Province delivered their welcome messages followed by the symbolic hitting of a gong to signify the start of the conference.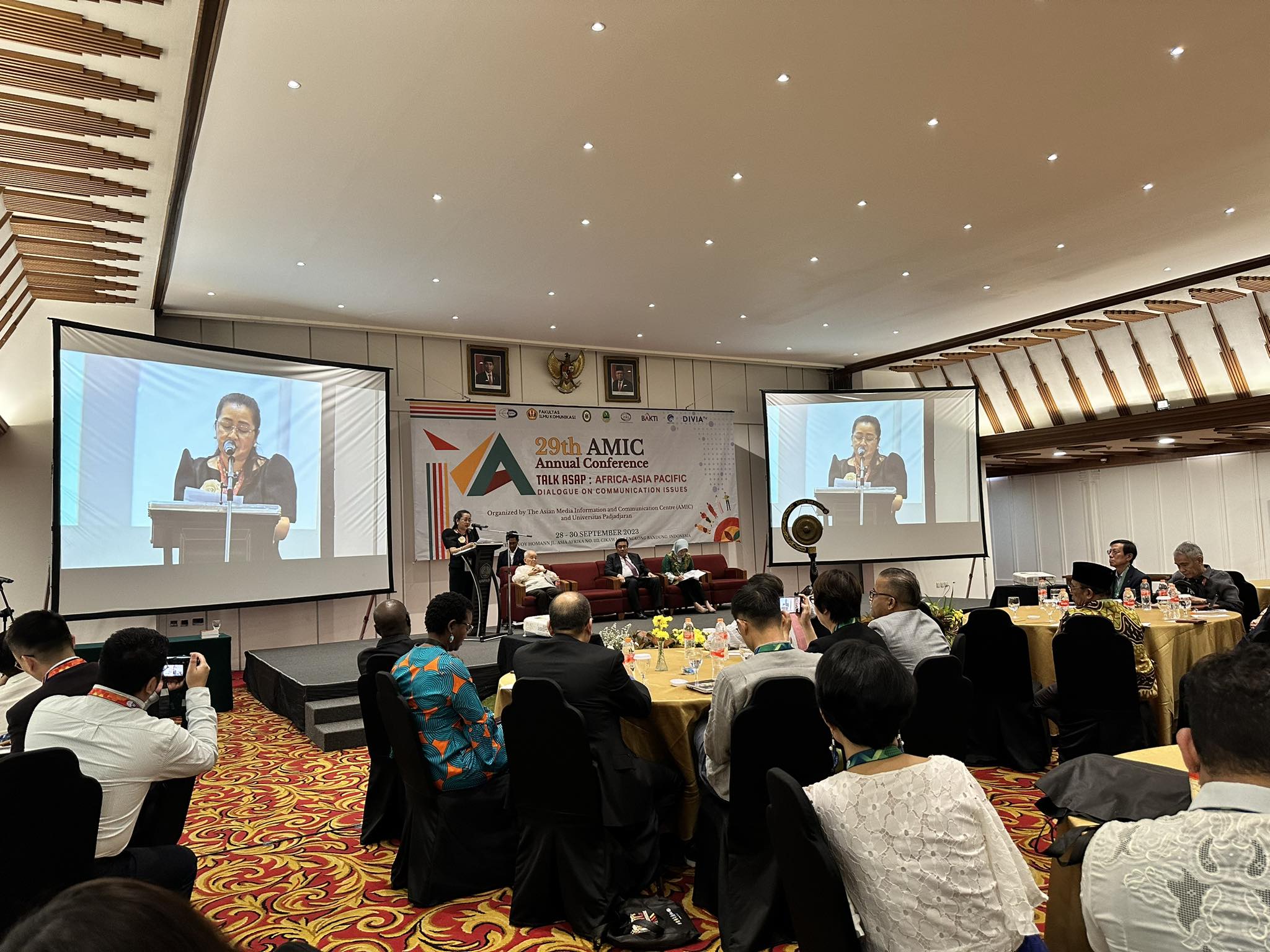 In her speech, Dr. Reyes emphasized the contribution of FEU in Asianizing communication scholarship by highlighting the launch of FRAMEwork: The Asia-Pacific Journal of Communication and the conference that carries the same name.
Plenary speakers and moderators from various universities in Asia and Africa discussed such issues as the role of AMIC and communication scholars in the propagation of scholarship in the discipline, Afrocentricity and Asiacentricity, regulation of digital platforms per UNESCO's recommendations, Asia-Africa research collaborations, state of the art on communication and development in Africa, and contemporary challenges to press freedom and media representations in both continents.
Another highlight of the conference was the conferment of the 2022 AMIC Asia Communication Award to Dr. Ronny Adhikarya for his exemplary contributions in communication and media. Noteworthy among his contributions was his introduction of knowledge management systems in Asia, Africa, and Near East.
As co-host, FEU's Department of Communication sent as its delegates VP Reyes as head of the team together with Herwin Cabasal who acted as the floor director of the conference program, Nikko Visperas who created the conference collaterals, and Augustus Ceasar Latosa who moderated the final plenary session. All of them presented their respective papers in the parallel sessions.
The conference ended with a gala dinner at the Gedung Sate with closing messages from Dr. Dadang Rahmat Hidayat, Dean of the Faculty of Communication Sciences, Dr. Setiawan Wangsa Akmaja, Regional Secretary of the West Java Province, and Ramon Tuazon, AMIC Secretary-General. Participants reenacted the 1955 Asian-African conference historic walk from the Savoy Homann Hotel to the Gedung Merdeka Museum on the last day of the conference.
Conference participants have the opportunity to publish their research in Media Asia and Asian Journal of Communication.