The objective of the event is to orient the students about airline industry particularly the work of a flight attendant.
---
FEU Institute of Tourism and Hotel Management welcomed four established flight attendants last March 1, 2023, who talked about opportunities, challenges, and perks of their profession. The event called "A Glimpse to the Life of Flight Attendants" at the FEU Mini Auditorium was attended by 255 BS in Tourism Management students. It was organized by the TRM1107 Introduction to Meetings, Incentives, Conferences, and Events Management Class – Section 5 with the production name Exvenio Inc.
About the speakers
Ms. Mhiles Villanueva is an FEU ITHM Alumna. She graduated last 2022 with the degree of Bachelor of Science in Tourism Management. She's currently employed in PAL Express.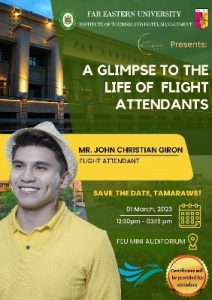 Mr. John Christian Geron graduated from FEU last 2022. Even before his graduation, he was already doing his training with Cebu Pacific Air as a flight crew.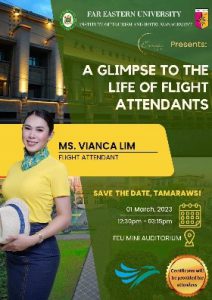 Ms. Vianca Lim is from Cebu Pacific Air. She's one of the few transwomen cabin crews of Cebu Pacific Air. She's a living testament of the changing landscape of the airline industry.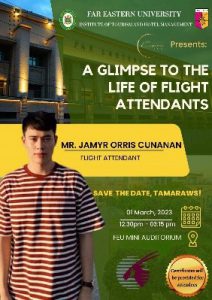 Mr, Jamyr Orris Cunanan is currently with Qatar Airways after serving as an inflight crew with PAL Express for four years. He's a BS Psychology graduate from the University of the Assumption.