(L-R) IAS Dean Diego Jose Abad, DCCD Director Flordeliza Abanto, Journalist Stanley Buenafe Gajete, GMA 7 reporter Amor Larrosa, IAS Assoc. Dean Francis Esteban, Christina Stella Ustaris, DepCom Chair Herwin Cabasal
Photo by: IAS Assoc. Dean Francis Esteban
The Far Eastern University Department of Communication conducted a forum on climate change under its Risk, Disaster, and Humanitarian Communication course last Sept. 13 in the FEUture Center Auditorium.
Resource speakers for the talk were the Executive Director and Vice Chair of the Climate Change Commission PH Robert Borje, international multiplatform journalist Stanley Buenafe Gajete, and GMA 7 reporter and FEU alumna Amor Larrosa.
During the forum, Borje emphasized the huge role of the academe in climate action and resilience-building, specifically by students whose active involvement in these issues is crucial as the future leaders of the nation. He urged the youth to be the climate champions of the today and tomorrow by being part of the solution of "the global governance challenge of our generation."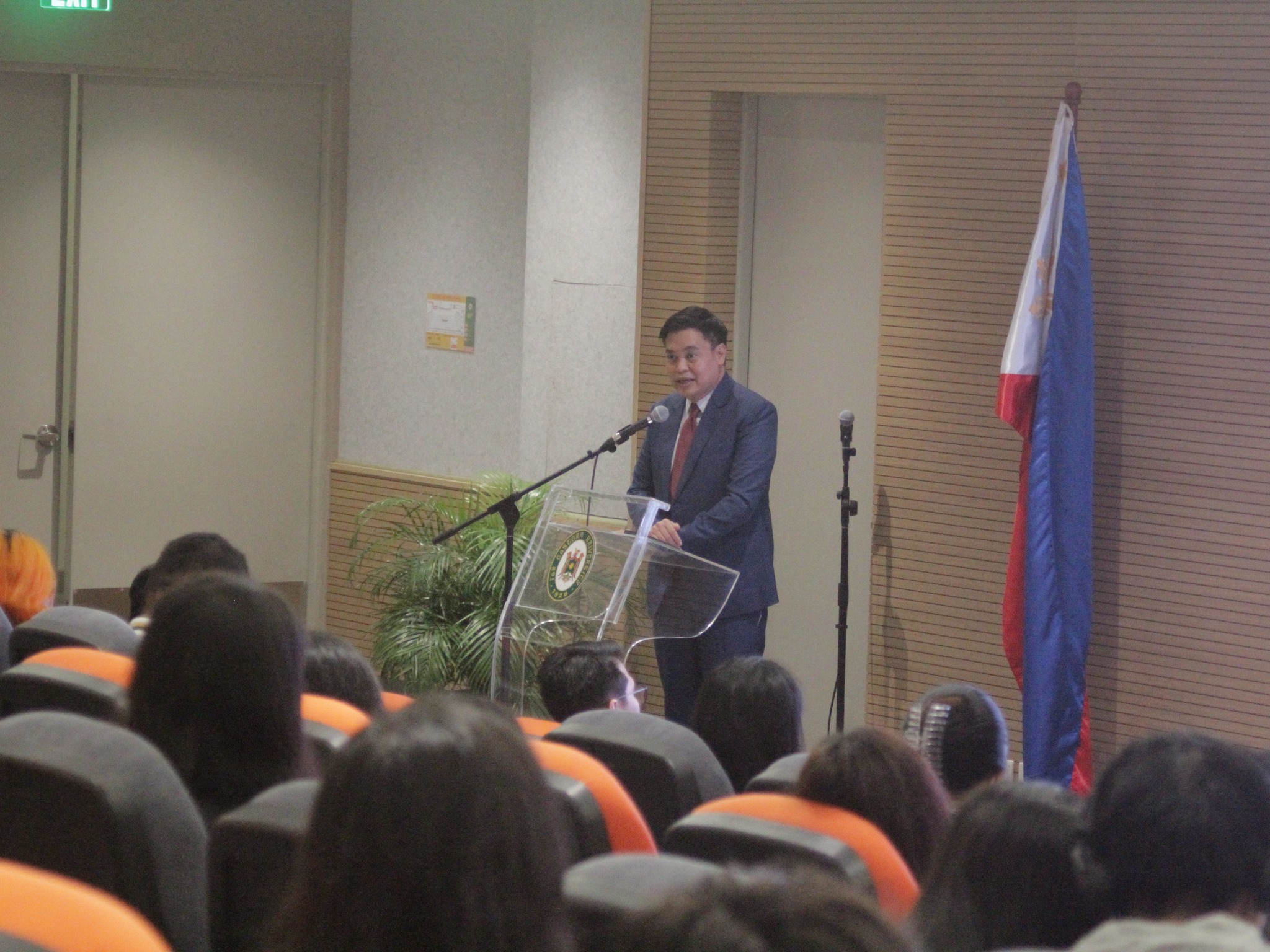 For Gajete, social, political, and cultural actions are affected by climate change. It is the media that bears a greater responsibility in explaining to people what climate change, global warming, and humanitarian efforts are, he said. He pointed out that local communities should be open to the idea of redefining resilience that is not reliant on humanitarian aid but by having their own calculated solutions with the resources they have on hand. He also urged students of BA Communication to go into environmental issues whatever career path in media they choose in the future.
DepCom alumna Larrosa talked about her experiences in weather reporting for GMA. She shared that the vital role of media in addressing climate change is to spread awareness, to educate the public on the issue, and to encourage people to take action. She showed videos on GMA reports on this phenomenon and how it affects actual individuals who have lost their loved ones to mosquito-borne diseases like dengue and Zika brought about by long periods of dry spells due to climate change. She asserts that emphasizing its impacts to the public and not merely talking about what it is, is very important in educating and encouraging people to take action to fight against it.
Institute of Arts and Sciences Dean Diego Jose Abad delivered his welcome remarks at the start of the event.
Students and faculty were given the opportunity to engage with the speakers during a Q&A portion of the program, moderated by one of the Risk, Disaster, and Humanitarian Communication faculty, Flordeliz Abanto.
DepCom Chair Herwin Cabasal delivered his closing statements at the end of the event.
The forum, conducted under the department's lecture series INSIGHTS and dubbed "Changing Climate, Changing Landscapes and Behaviors," was livestreamed in the Facebook pages of FEU, DepCom, and the Climate Change Commission PH.