In photo, Mr. Rey Parcon, Assistant Department Chair of Business Administration; Ms. Madonna Tejada, Department Chair of Business Administration; Dr. Lurhen Cortes, Department Chair of Tourism Management; Mr. Adrian Ablanque, IABF Student; Mr. John Cenon Barrieta, IABF Student/2nd place winner; Mr. Lee Andre Catena, ITHM Student/PATA Philippines FEU Student Chapter Chairperson; Ms. Maria Anne Therese Hernandez, ITHM Student/PATA PATA Philippines FEU Student Chapter Vice Person; Dr. Harold Bueno, Dean of ITHM; Dr. Driselle Pajuyo, Director of International Relations Office; Dr. Chrisdie Tongol; PATA PATA Philippines FEU Student Chapter Adviser Photo by: IRO
Three Far Eastern University (FEU) students bagged the two highest awards in the vlog competition of the recently concluded Commission on Higher Education-National Capital Region during the 56th Founding Anniversary of the Associations of Southeast Asian Nations (ASEAN).
Megan Gabrielle Hofileña and Elijah Benedicto from the Institute of Tourism and Hotel Management (ITHM) won first place after receiving 91.67 percent. Meanwhile, Institute of Accounts, Business and Finance (IABF)'s John Cenon Barrieta placed second with a score of 91.03 percent.
Following this year's theme of "ASEAN Matters: Epicentric of Growth," the three students showed their lives as students abroad through their vlogs. Hofileña and Benedicto shared their internship experiences in Missouri and Arizona, USA.
In an online interview, Hofileña shared her one-of-a-kind experience in Hyatt Regency at the Arch, St. Louis, Missouri. Hofileña was one of the nine FEU students who interned at Hyatt Regency from May to August 2023.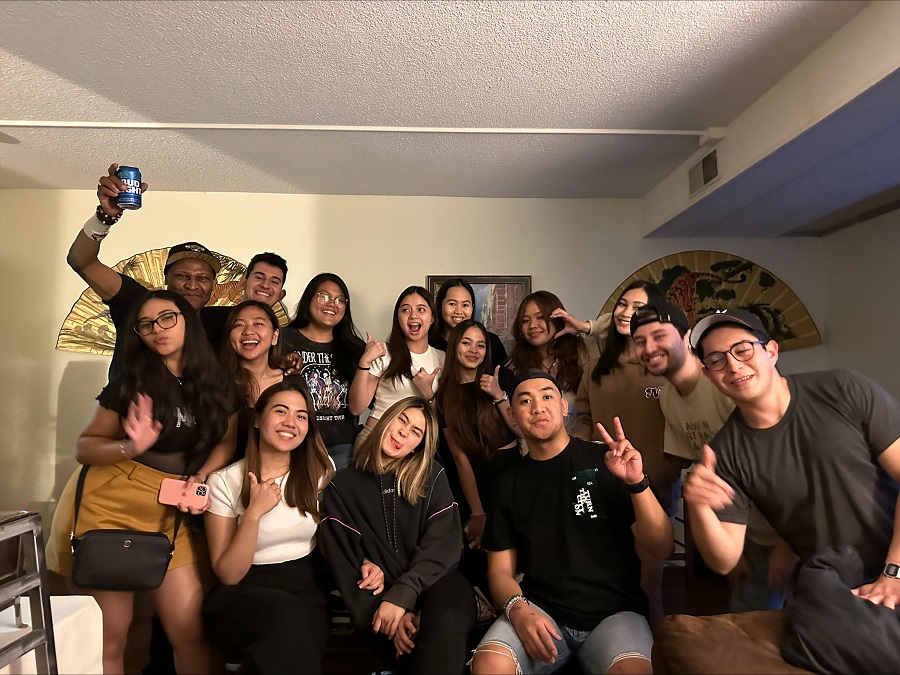 "At first I was a bit shocked when I arrived there. Their culture is so much different from ours. But it helped me and my classmates that there are a lot of Filipinos staying in the same building where we stayed at," Hofileña shared.
Hofileña also thanked her FEU ITHM learning as it helped her a lot in approaching her guests and co-workers. She was assigned in housekeeping. She shared that she exhausted her FEU knowledge and skills in doing her internships.
Before they left the country, their FEU mentors continued to brief them about different types of guests and co-workers. One of the most memorable pieces of advice she received was 'prepare for the worst.' Thankfully she never encountered such guests or co-workers, she said, but that advice motivated her to work harder in her duties.
But just like any other overseas workers, they experienced the most difficult challenge of being away from their families. For Hofileña, it was extra difficult as it was her first time to be separated from her mother for three months.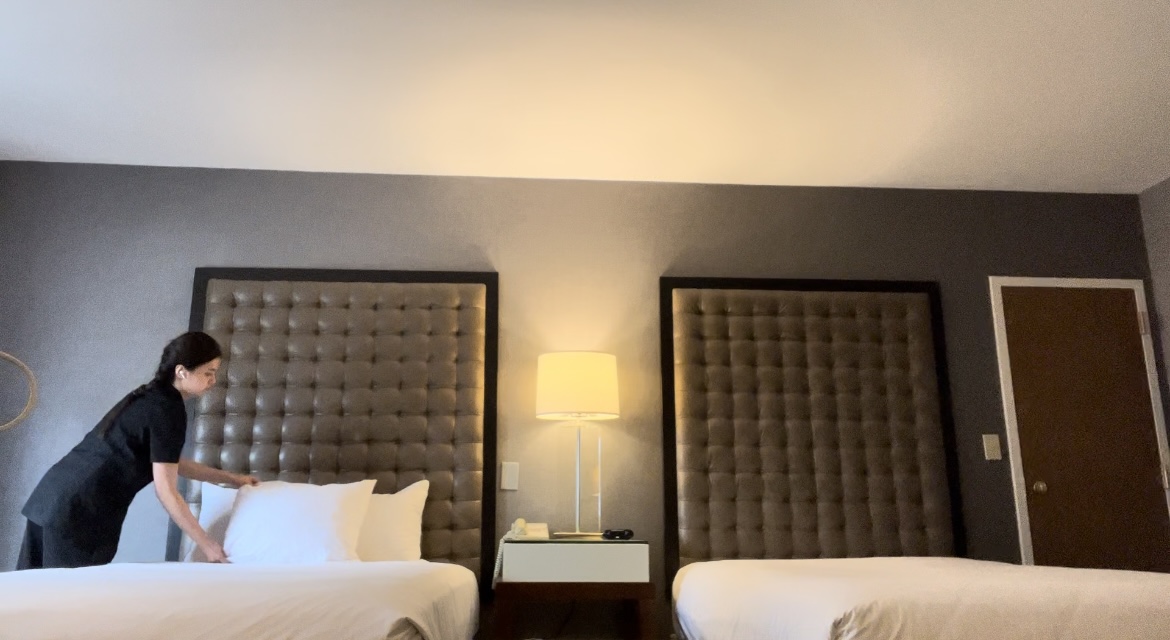 "To be honest it was hard. We thought of quitting, but we persevered. Especially during the first week, home sickness kicked in," she added.
Despite her busy internship schedule, Hofileña managed to sneak around the city, and explore the rich and colorful American culture in St. Louis. She also shared that through this experience, she met new friends, fellow interns from other countries.
"I met new friends from Colombia and Ecuador. And I am still in-contact with them," she said.
Vlogging was not new for Hofileña, who has an active TikTok account. Her social media presence and experience helped her in the creation of her vlog entry.
"I was informed by my friend about this competition during my last week of stay in Missouri. Technically, all of the footages and shots I used were rushed. Even the question-and-answer part of the vlog, it was super rushed. I videographed myself a day before my flight back to Manila," she shared. Her videos and Benedicto's were stitched together to create a vlog entry from ITHM.
On the other hand, John Barrieta, a fourth-year internal auditing student, shared his 10-day summer camp at Ming Chi University of Technology in New Taipei, Taiwan last July 2023.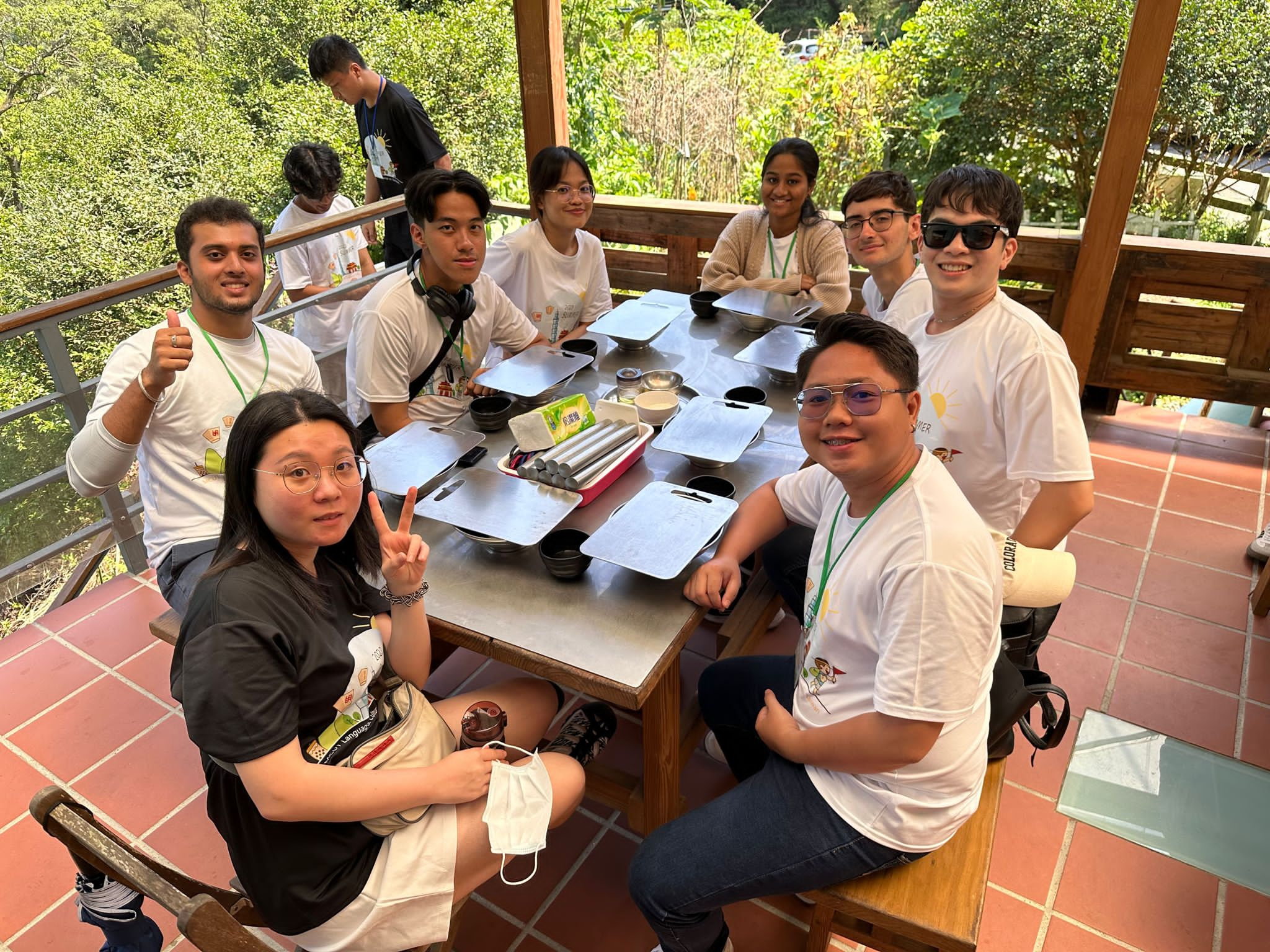 This summer program was Barrieta's first time to travel in Taiwan. It was offered to him by IABF Associate Dean for Internals Dr. Joselito P. Tem, who also happened to be his adviser.
Barrieta was provided airfare and mentoring by FEU. Meanwhile, the host university, Ming Chi University of Technology provided food and lodging for 35 foreign students.
The summer camp aimed to introduce the history, culture, and traditions of Taiwan to foreign students, and be the state's youth ambassadors in their respective countries. The 10-day program was filled with educational and cultural seminars.
"We have a fixed itinerary from day 1 to day 10. Every morning we have a Mandarin Language and Culture class, which is the core of the camp. They taught us the dos and don'ts in Taiwan. We even made fans, noodles, and mini lanterns. Every afternoon, we had camp buddies, who were student-leaders from Ming Chi, and they toured us around the campus and around Taipei," Barrieta enthusiastically shared during a face-to-face interview.
Barrieta also shared Filipino culture and traditions to his fellow delegates. For him it was a successful endeavor, thanks to the support he received from FEU. More so, he also said the knowledge and experiences he gained from FEU's General Education courses, such as Speech Communication and Purposive Communication, helped him in connecting with his fellow campers and the host university delegates.
"The biggest lesson I learned from it is the importance of social and effective communication in cultural and international exchanges," he added. This takeaway was his foundation in creating his vlog entry in the competition.
He highlighted how communication plays a vital role in making borderless connections with ASEAN networks.
Barrieta views communication as the most important factor in connecting to ASEAN stories, successes, and struggles. Through communication, he said, people can achieve a borderless ASEAN network free from language barriers—strengthening the ASEAN partnership and creating one narrative of achievement and growth.
Hofileña and Benedicto won P5,000 in cash and certificates. Meanwhile, Barrieto received P4,000 in cash and certificate from CHED-NCR.