"Our inspiration for pursuing this outreach program is within the Medical Technology department's goals, values and principles, which is rooted to providing service to our community," said Associate Department Chair (External Affairs) Daniel Bercede.
Last Sept. 10, the department continued its long-standing partnership with The Great Lighthouse Foundation, Inc. (TGLFI) through a Community Wellness Outreach Program at Brgy. Tatalon, Quezon City.
The department, together with the Community Assistance and Relief Endeavor (CARE), an arm of TGLFI, served more than 400 patients from Brgy. Tatalon and other nearby communities. This medical mission was part of the department's advocacy of promoting community wellness in the country.
Community wellness is a multi-faceted approach to improve a community's well-being.
"It refers to the overall health, well-being, and quality of life within a particular community. It encompasses various aspects of physical, mental, social, and environmental health, with the goal of creating a supportive and thriving community," Bercede explained.
MedTech's Department Chair, Luis Dominick Antig, also emphasized that this outreach program not only promoted community health but also provided a platform to teach the department's students the importance of their role in nation building.
"A healthy community means a thriving community. As an academic institution that produces health care professionals, it is essential that we become a part of health promotion. We teach our students to reach out to communities and assess the communities they are a part of," he said. "This was is to continue the legacy of community service which was stopped for three years due to the [COVID-19] pandemic. For the department, the pandemic is an example of a huge challenge in community well-being."
Despite the setbacks brought by the pandemic, the department is determined to renew its partnership with different institutions in providing quality health care services to impoverished communities in Manila. The department previously conducted medical missions and water analysis in nearby communities and one of their former partner communities was a group of persons deprived of liberty (PDLs).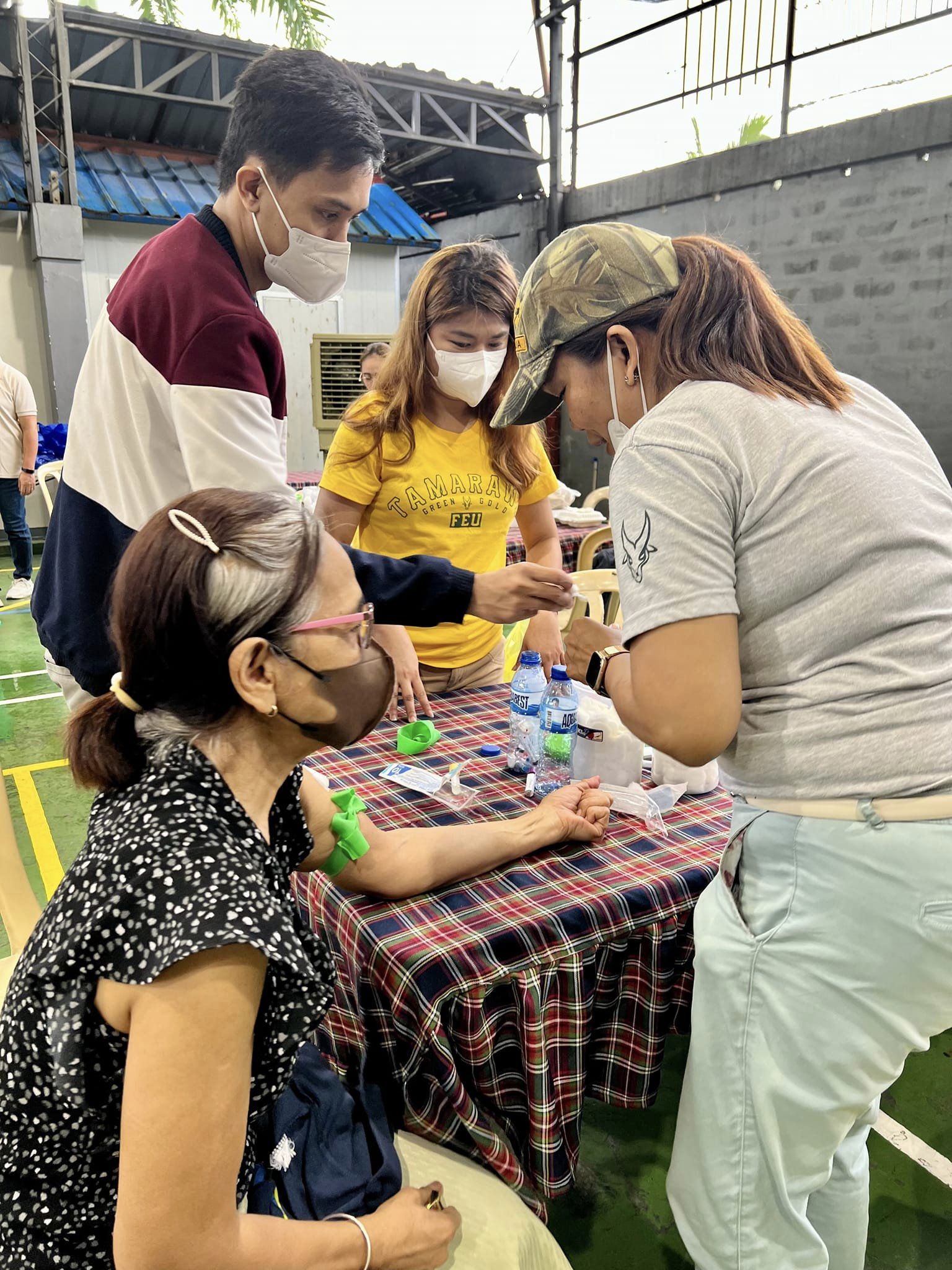 Antig also claimed that the pandemic left them a valuable lesson of "the importance of promoting health and being active in engaging with communities on how to better themselves health-wise."
When Dr. Roberto Manaois, an FEU alumnus, offered the department another opportunity to work with TGLFI, the department immediately took it and assembled its own version of medical "Avengers"–composed of registered medical technologist faculty members.
Pamela Rose Bremner, Maria Aurelia Enriquez, Nelven Gallego, Therese Abbie Lopez, Kristina MariaPetalcorin, Charlene Princess Tolenada, and Glory Ann Uera composed the department's medical mission team.
Headed by Bercede, and Dick S. Ku, director of CARE-TGLFI, the team conducted the medical mission. Despite the extreme weather condition, many residents arrived at the venue, Lighthouse Bible Baptist Church, and availed themselves of the free medical services.
"We encountered a diverse range of patients, from five-year-olds to senior citizens, including both able-bodied individuals and those with disabilities. This experience deepened our appreciation for the significance of outreach programs in addressing healthcare needs of a broad spectrum of the community," Bercede exclaimed.
Aside from providing health care services to the target audience, the main purpose of this outreach program was to set an example among the current FEU medical technology students.
"It is important that the department sets itself as an example for our students, and to lead the charge for community activities relating to health and its promotion," Antig mentioned.
The unwavering cheerfulness and undying gratitude of their patients further motivated the department to continue its legacy. It promised that this was the start of more partnerships in the future. More partnerships and collaborations with government institutions and non-government organizations await in the future.
"As we continue to move forward into normalcy, it is high time that we also reopen the doors for community extension programs," Antig added.