Want to try wall climbing, but you have no time due to busy academic sched? Worry no more as FEU's Wellness and Recreation Program (WRP) now adds top rope wall climbing in its selections.
This semester marks a new chapter in FEU's WRP as it finally inaugurated the much anticipated in-door rope wall climbing last Aug. 24 at Arts Building Gym. Among the attendees were FEU Chair, Aurelio Montinola III; FEU Chair Emeritus, Dr. Aurelio Montinola III; FEU President, Juan Miguel R. Montinola; Dean of Institute of Education, Dr. Rosarito Suatengco; Head of WRP, Dr. Jeremy Pedregosa; and John Joseph Veloria, a Tamarraw, FEU alumnus and professional sport climber.
"With this rocking climbing wall, we reach the pinnacle of wellness, recreation and positivity,"said Dr. Suatengco. She also emphasized that through this new WRP offering, the young Tamaraws will experience favorable physical and performance-related changes.
According to Melanie McManus of CNN Health, the benefits of rock and wall climbing includes increased cardiorespiratory fitness and muscle strength, flexibility and balance, enhanced memory and problem-solving, and improved communication skills. This sports also enhances trust, builds community, and combats depression.
Through these promises of personal growth and improvement, indoor and outdoor rock and wall climbing have spiked in popularity in the past years. In Metro Manila alone, many indoor climbing gyms defied the odds and reopened amid the COVID-19 pandemic. Power-up Climbing Gyms, Climb Central Manila, Edge Climb Gym, Camp Sandugo, and UPLB Mountaineer's The Wall soared back to popularity in the past year.
Veloria, who is the current captain and national athlete of the Philippine National Climbing Team, welcomed this new offering of FEU WRP.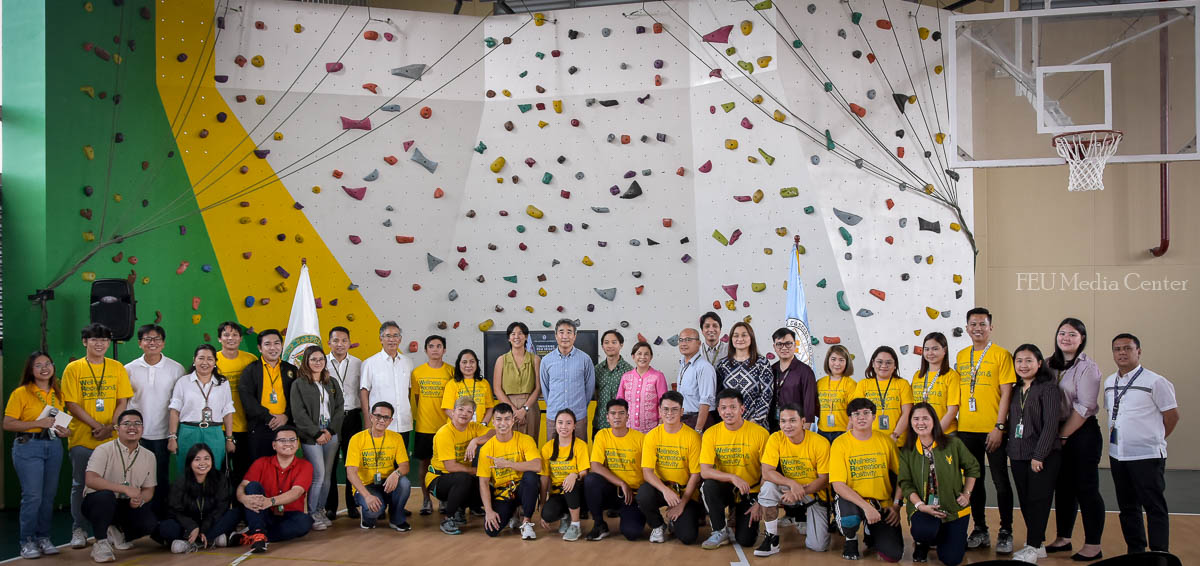 "The establishment of a climbing wall in our university holds a great potential for collaborating with established climbing organizations, and hopefully other universities as well, to make all kinds of sport climbing accessible to the younger generations," said Veloria.
He started climbing in 2012 and soon became skilled in 2 major disciplines – lead climbing and bouldering.
"I hope we can foster here at FEU, climbers who embody our university's core values of fortitude, excellence, and uprightness," he added.
The national athlete revealed that he never forgets FEU's core values and even connects it to the sports he loves.
"Fortitude is the courage to overcome adversity. To push ourselves to new heights, we must get comfortable with failure, to get up, and try again. To conquer the cliffs, we must first conquer our doubts and fear," said Veloria.
He added: "Excellence is the pursuit for greatness. Excellence in climbing can be achieved in many different ways. However, any path chosen requires discipline and constant learning. Uprightness is integrity in action. Climbing teaches us to trust the process and follow through with our decisions. As we introduce wall climbing, we provide a platform for students to embody these values. Let's climb the walls of adversity with courage, strive for excellence, and uphold integrity in all we do."
Aside from leading the national team, Veloria is busy collecting international recognitions for the country. Last April 2023, Veloria represented the country in the International Federation of Sport Climbing World Cup at Hachioji, Japan.
He is currently training for the 2024 Olympics Qualifications in Hangzhou, China. He aims to represent the country in the sophomore Olympics year of sport climbing. The sport debuted in the 2020 Tokyo Summer Olympics and will return in 2024 Paris Summer Olympics.
With FEU's brand of academic and non-academic excellence, this new sporting activity aims to unlock the greatest potentials of Tamaraws. FEU promised that through its controlled environment, the wall climbing is an ideal place to improve students' weaknesses and unleash their individual strengths–boosting their physical, mental and social health.
It may seem a niche sport for some, thinking that it is filled with danger. But for FEU it is an opportunity that offers endless possibilities–it just has to start on the wall.